Call Me by Your Name: A Novel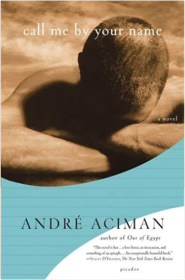 Andre Aciman
A New York Times Notable Book of the Year

A Publishers Weekly Best Book of the Year

A Washington Post Best Fiction Book of the Year

A New York Magazine "Future Canon" Selection

A Chicago Tribune Favorite Book of the Year

One of The Seattle Times' Michael Upchurch's Favorite Books of the Year

An Amazon Top 100 Editors' Picks of the Year

An Amazon Top 10 Editors' pick: Debut Fiction (#6)

An Amazon Top 10 Editors' pick: Gay & Lesbian (#1)

 

Call Me by Your Name is the story of a sudden and powerful romance that blossoms between an adolescent boy and a summer guest at his parents' cliffside mansion on the Italian Riviera.  During the restless summer weeks, unrelenting but buried currents of obsession, fascination, and desire intensify their passion as they test the charged ground between them and verge toward the one thing both already fear they may never truly find again: total intimacy. André Aciman's critically acclaimed debut novel is a frank, unsentimental, heartrending elegy to human passion.
Enigma Variations: A Novel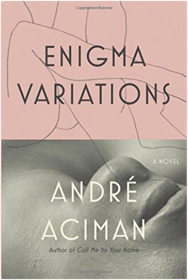 André Aciman
André Aciman, hailed as a writer of "fiction at its most supremely interesting" (The New York Review of Books), has written a novel that charts the life of a man named Paul, whose loves remain as consuming and as covetous throughout his adulthood as they were in his adolescence. Whether the setting is southern
Italy, where as a boy he has a crush on his parents' cabinetmaker, or a snowbound campus in New
England, where his enduring passion for a girl he'll meet again and again over the years is punctuated
by anonymous encounters with men; whether he's on a tennis court in Central Park, or on a New York sidewalk in early spring, his attachments are ungraspable, transient, and forever underwritten by raw desire―not for just one person's body but, inevitably, for someone else's as well.
In Enigma Variations, Aciman maps the most inscrutable corners of passion, proving to be an unsparing
reader of the human psyche and a master stylist. With language at once lyrical, bare-knuckled,
and unabashedly candid, he casts a sensuous, shimmering light over each facet of desire to probe how
we ache, want, and waver, and ultimately how we sometimes falter and let go of those who may want
to offer only what we crave from them. Ahead of every step Paul takes, his hopes, denials, fears, and
regrets are always ready to lay their traps. Yet the dream of love lingers. We may not always know what we want. We may remain enigmas to ourselves and to others. But sooner or later we discover who we've always known we were.
Find Me: A Novel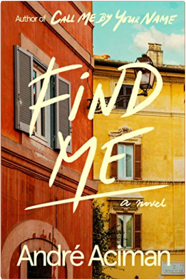 André Aciman
In this spellbinding exploration of the varieties of love, the author of the worldwide bestseller Call Me by Your Name revisits its complex and beguiling characters decades after their first meeting.

No novel in recent memory has spoken more movingly to contemporary readers about the nature of love than André Aciman's haunting Call Me by Your Name. First published in 2007, it was hailed as "a love letter, an invocation . . . an exceptionally beautiful book" (Stacey D'Erasmo, The New York Times Book Review). Nearly three quarters of a million copies have been sold, and the book became a much-loved, Academy Award–winning film starring Timothée Chalamet as the young Elio and Armie Hammer as Oliver, the graduate student with whom he falls in love.

In Find Me, Aciman shows us Elio's father, Samuel, on a trip from Florence to Rome to visit Elio, who has become a gifted classical pianist. A chance encounter on the train with a beautiful young woman upends Sami's plans and changes his life forever.

Elio soon moves to Paris, where he, too, has a consequential affair, while Oliver, now a New England college professor with a family, suddenly finds himself contemplating a return trip across the Atlantic.

Aciman is a master of sensibility, of the intimate details and the emotional nuances that are the substance of passion. Find Me brings us back inside the magic circle of one of our greatest contemporary romances to ask if, in fact, true love ever dies.
Homo Irrealis: Essays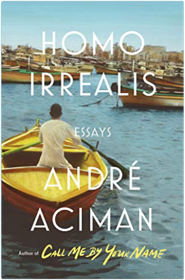 Aciman, André
Out of Egypt: A Memoir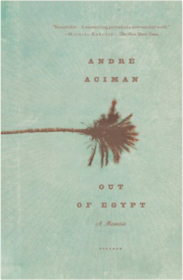 André Aciman
This richly colored memoir chronicles the exploits of a flamboyant Jewish family, from its bold arrival in cosmopolitan Alexandria to its defeated exodus three generations later. In elegant and witty prose, André Aciman introduces us to the marvelous eccentrics who shaped his life—Uncle Vili, the strutting daredevil, soldier, salesman, and spy; the two grandmothers, the Princess and the Saint, who gossip in six languages; Aunt Flora, the German refugee who warns that Jews lose everything "at least twice in their lives." And through it all, we come to know a boy who, even as he longs for a wider world, does not want to be led, forever, out of Egypt.