Darkness Visible: A Memoir of Madness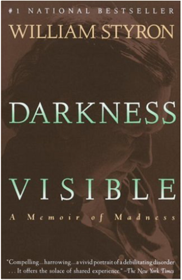 William Styron
A work of great personal courage and a literary tour de force, this bestseller is Styron's true account of his descent into a crippling and almost suicidal depression. Styron is perhaps the first writer to convey the full terror of depression's psychic landscape, as well as the illuminating path to recovery.
Havanas in Camelot: Personal Essays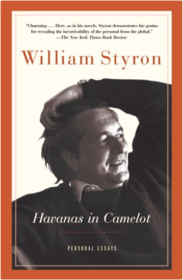 William Styron
After the great success in 1990 of Darkness Visible, his memoir of depression and recovery, William Styron wrote more frequently in an introspective, autobiographical mode. Havanas in Camelot brings together fourteen of his personal essays, including a reminiscence of his brief friendship with John F. Kennedy; memoirs of Truman Capote, James Baldwin, and Terry Southern; a meditation on Mark Twain; an account of Styron's daily walks with his dog; and an evocation of his summer home on Martha's Vineyard. These essays, which reveal a reflective and humorous side of Styron's nature, make possible a fuller assessment of this enigmatic man of American letters.
Lie Down in Darkness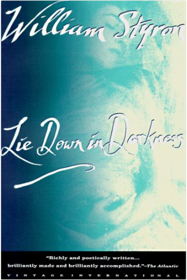 William Styron
William Styron traces the betrayals and infidelities—the heritage of spite and endlessly disappointed love—that afflict the members of a Southern family and that culminate in the suicide of the beautiful Peyton Loftis.
My Generation: Collected Nonfiction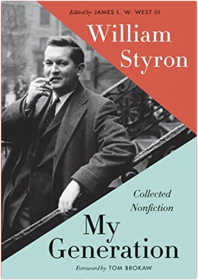 William Styron, James L.W. I West II
A vital, illuminating collection of the Pulitzer Prize and National Book Award winner's elegant, passionately engaged nonfiction
 
My Generation is the definitive gathering of William Styron's nonfiction, exposing the core of this greatly gifted, highly convivial, and profoundly serious artist from his literary emergence in the 1950s to his death in 2006.
 
Here are fifty years of Styron's essays, memoirs, reviews, op-eds, articles, eulogies, and speeches, reflecting the same brilliant style and informed thinking that he brought to his towering fiction and to a deeply committed public life. Including many newly collected and never-before-published items, this compendium ranges from the original mission statement of The Paris Review, which Styron helped found in 1953, to a 2001 tribute to his friend Philip Roth—creating an essential overview of arts and letters during the post–World War II years.
 
In these pages, Styron writes vividly of childhood days in Tidewater Virginia spent going to movies, not reading books. ("It does not mean the death of literacy or creativity if one is drenched in popular culture at an early age.") He recalls being among the group of soldiers who would have been sent to invade Japan and were saved by Truman's decision to drop the atomic bomb, which Styron feels was the right choice, "even though its absolute rightness can never be proved." And he writes as few others have about midlife battles with clinical depression, "a pain that is all but indescribable, and therefore to everyone but the sufferer almost meaningless."
 
Here, too, are Styron's personal encounters with world leaders, fellow authors, and friends, each of whom comes memorably to life. Styron recalls sharing contraband Cuban cigars with JFK ("a naughty memento, a conversation piece with a touch of scandal"), getting lost in the snow with Robert Penn Warren, and party-hopping with the young James Jones (an experience he likens to "keeping company with a Roman emperor"). The beginnings of his masterpieces The Confessions of Nat Turner and Sophie's Choice are chronicled here, along with the controversy that greeted the former upon its 1967 publication. Throughout, Styron celebrates the men and women of his generation, whose lives were forged in the crucible of World War II.
 
Whether he's recounting a walk with his dog, musing on the Modern Library's list of the hundred best English-language novels of the twentieth century, or contemplating America's fraught racial legacy from his point of view as the grandson of a woman who owned slaves, William Styron writes always in urgent, finely calibrated prose. These fascinating pieces bring readers closer to this great writer and the world he observed, interacted with, and changed.

Praise for My Generation
 
"William Styron's My Generation: Collected Nonfiction is both unsurpassably charming and unflinchingly honest, whether recounting the fallout from The Confessions of Nat Turner or reminiscing about the slave-owning grandmother who warned him never to forget he was a Southerner."—Vogue
 
"At its most accomplished, Styron's non-fiction mixes a conscientious, richly traditional prose style with a strong current of fellow feeling, a certain awe at the human condition, which is what gives power to his best fiction. . . . Styron stood tall in his generation, and the best of him will stand up over time."—USA Today
 
"A must for every Styron fan's library."—BBC
The Confessions of Nat Turner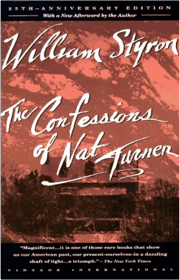 William Styron
This Quiet Dust: And Other Writings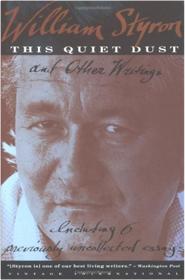 William Styron
Profound and passionate essays from one of America's greatest literary voices of the twentieth century  This Quiet Dust is a compilation of William Styron's nonfiction writings that confront significant moral questions with precision and vigor. He examines topics as diverse as the Holocaust, the American Dream, and the controversy that raged around his Pulitzer Prize–winning novel, The Confessions of Nat Turner. In each entry, Styron expertly wields his powers of insight to slice through the most complex issues.   This Quiet Dust offers a window into the philosophical underpinnings of Styron's greatest novels and is the ideal entry for readers seeking a greater understanding into the work of one of America's most celebrated authors.   This ebook features a new illustrated biography of William Styron, including original letters, rare photos, and never-before-seen documents from the Styron family and the Duke University Archives.
A Tidewater Morning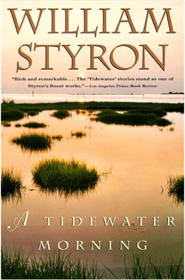 William Styron
In this brilliant collection of "long short stories, " the Pulitzer Prize-winning author of Sophie's Choice returns to the coastal Virginia setting of his first novels. Through the eyes of a man recollecting three episodes from his youth, William Styron explores with new eloquence death, loss, war, and racism.