Bellow: Novels 1970-1982: Mr. Sammler's Planet / Humboldt's Gift / The Dean's December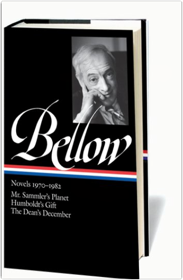 Saul Bellow, James Wood
It All Adds Up: From the Dim Past to the Uncertain Future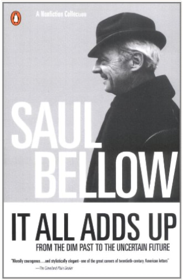 Saul Bellow
Saul Bellow's fiction, honored by a Nobel Prize and a Pulitzer, among other awards, has made him a literary giant. Now the man himself and a lifetime of his insightful views on a range of topics spring off the page in this, his first nonfiction collection, which encompasses articles, lectures, essays, travel pieces, and an "Autobiography of Ideas." It All Adds Up is a fascinating journey through literary America over the last forty years, guided by one of the "most gifted chroniclers in the Western World" (The London Times).
Saul Bellow: Letters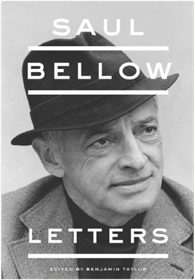 Saul Bellow, Benjamin Taylor
A never-before-published collection of letters-an intimate self- portrait as well as the portrait of a century.

Saul Bellow was a dedicated correspondent until a couple of years before his death, and his letters, spanning eight decades, show us a twentieth-century life in all its richness and complexity. Friends, lovers, wives, colleagues, and fans all cross these pages. Some of the finest letters are to Bellow's fellow writers-William Faulkner, John Cheever, Philip Roth, Martin Amis, Ralph Ellison, Cynthia Ozick, and Wright Morris. Intimate, ironical, richly observant, and funny, these letters reveal the influcences at work in the man, and illuminate his enduring legacy-the novels that earned him a Nobel Prize and the admiration of the world over. Saul Bellow: Letters is a major literary event and an important edition to Bellow's incomparable body of work.
Saul Bellow: Novels 1944-1953: Dangling Man, The Victim, and The Adventures of Augie March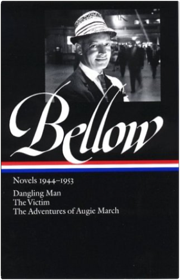 Saul Bellow, James Wood
Saul Bellow's rare talent has not only earned critical accolades, including the Nobel Prize, it has also made his books perennial bestsellers. Now, in a historic collector's edition celebrating the 50th anniversary of the classic The Adventures of Augie March, readers will rediscover the novels that laid the foundation for Bellow's towering career.

The comic tour-de-force The Adventures of Augie March (1953) introduced to American literature a startlingly original expressiveness-uninhibited, jazzy, infused with Yiddishisms and Depression-era voices. Ebullient irony bears Bellow's prose aloft. March comes of age in a Chicago bustling with characters as large and vital as the city itself, and his travels abroad lead him through love's byways and the disappointments of vanishing youth. Martin Amis calls it "the Great American Novel" for its "fantastic inclusiveness, its pluralism, its qualmless promiscuity. . . . Everything is in here."

Bellow's sparer first two novels possess a more Flaubertian precision. Dangling Man (1944) penetrates the psychology of a jobless man's anxiousness as he awaits draft orders. The Victim (1947), an increasingly nightmarish story of one man's extraordinary claims on a casual acquaintance, explores our obligations to others and the unfathomable workings of chance. After a half century, Bellow's earliest novels remain as fresh, incisive, and entertaining as ever. Included in this edition are helpful notes and a chronology of the author's life.
Saul Bellow: Novels 1956-1964: Seize the Day, Henderson the Rain King, Herzog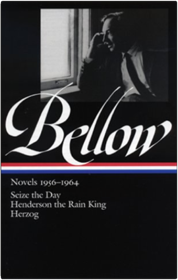 Saul Bellow, James Wood
Saul Bellow: Novels 1984-2000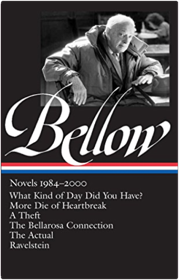 Saul Bellow
There Is Simply Too Much to Think About: Collected Nonfiction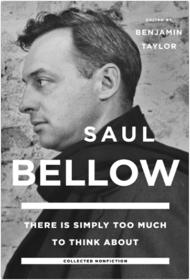 Saul Bellow, Benjamin Taylor
"Bellow's nonfiction has the same strengths as his stories and novels: a dynamic responsiveness to character, place and time (or era) . . . And you wonder – what other highbrow writer, or indeed lowbrow writer has such a reflexive grasp of the street, the machine, the law courts, the rackets?" — Martin Amis, The New York Times Book Review

The year 2015 marks several literary milestones: the centennial of Saul Bellow's birth, the tenth anniversary of his death, and the publication of Zachary Leader's much anticipated biography. Bellow, a Nobel Laureate, Pulitzer Prize winner, and the only novelist to receive three National Book awards, has long been regarded as one of America's most cherished authors. Here, Benjamin Taylor, editor of the acclaimed Saul Bellow: Letters, presents lesser-known aspects of the iconic writer.

Arranged chronologically, this literary time capsule displays the full extent of Bellow's nonfiction, including criticism, interviews, speeches, and other reflections, tracing his career from his initial success as a novelist until the end of his life. Bringing together six classic pieces with an abundance of previously uncollected material, There Is Simply Too Much to Think About is a powerful reminder not only of Bellow's genius but also of his enduring place in the western canon and is sure to be widely reviewed and talked about for years to come.