Barrel Fever: Stories and Essays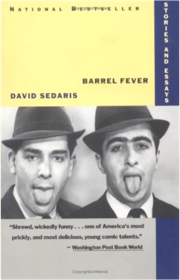 David Sedaris
Calypso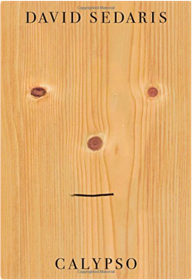 David Sedaris
David Sedaris returns with his most deeply personal and darkly hilarious book.

If you've ever laughed your way through David Sedaris's cheerfully misanthropic stories, you might think you know what you're getting with Calypso. You'd be wrong.

When he buys a beach house on the Carolina coast, Sedaris envisions long, relaxing vacations spent playing board games and lounging in the sun with those he loves most. And life at the Sea Section, as he names the vacation home, is exactly as idyllic as he imagined, except for one tiny, vexing realization: it's impossible to take a vacation from yourself.

With Calypso, Sedaris sets his formidable powers of observation toward middle age and mortality. Make no mistake: these stories are very, very funny—it's a book that can make you laugh 'til you snort, the way only family can. Sedaris's powers of observation have never been sharper, and his ability to shock readers into laughter unparalleled. But much of the comedy here is born out of that vertiginous moment when your own body betrays you and you realize that the story of your life is made up of more past than future.

This is beach reading for people who detest beaches, required reading for those who loathe small talk and love a good tumor joke. Calypso is simultaneously Sedaris's darkest and warmest book yet—and it just might be his very best.
David Sedaris Diaries: A Visual Compendium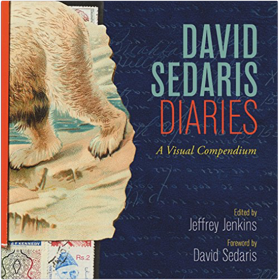 David Sedaris, Jeffrey Jenkins
A remarkable illustrated volume of artwork and images selected from the diaries David Sedaris has been creating for four decades

In this richly illustrated book, readers will for the first time experience the diaries David Sedaris has kept for nearly 40 years in the elaborate, three-dimensional, collaged style of the originals. A celebration of the unexpected in the everyday, the beautiful and the grotesque, this visual compendium offers unique insight into the author's view of the world and stands as a striking and collectible volume in itself.

Compiled and edited by Sedaris's longtime friend Jeffrey Jenkins, and including interactive components, postcards, and never-before-seen photos and artwork, this is a necessary addition to any Sedaris collection, and will enthrall the author's fans for many years to come.
Holidays on Ice: Stories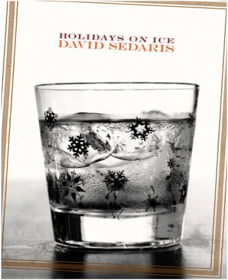 David Sedaris
Naked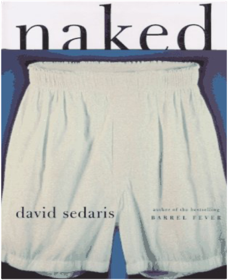 David Sedaris
Squirrel Seeks Chipmunk: A Modest Bestiary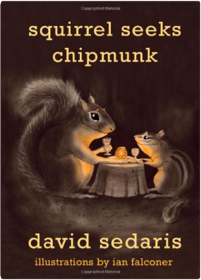 David Sedaris
Featuring David Sedaris's unique blend of hilarity and heart, this new collection of keen-eyed animal-themed tales is an utter delight. Though the characters may not be human, the situations in these stories bear an uncanny resemblance to the insanity of everyday life.

In "The Toad, the Turtle, and the Duck," three strangers commiserate about animal bureaucracy while waiting in a complaint line. In "Hello Kitty," a cynical feline struggles to sit through his prison-mandated AA meetings. In "The Squirrel and the Chipmunk," a pair of star-crossed lovers is separated by prejudiced family members.

With original illustrations by Ian Falconer, author of the bestselling Olivia series of children's books, these stories are David Sedaris at his most observant, poignant, and surprising.
Theft by Finding: Diaries
David Sedaris
One of the most anticipated books of 2017: Boston Globe, New York Times Book Review, New York's "Vulture", The Week, Bustle, BookRiot

David Sedaris tells all in a book that is, literally, a lifetime in the making

For forty years, David Sedaris has kept a diary in which he records everything that captures his attention-overheard comments, salacious gossip, soap opera plot twists, secrets confided by total strangers. These observations are the source code for his finest work, and through them he has honed his cunning, surprising sentences.

Now, Sedaris shares his private writings with the world. Theft by Finding, the first of two volumes, is the story of how a drug-abusing dropout with a weakness for the International House of Pancakes and a chronic inability to hold down a real job became one of the funniest people on the planet.

Written with a sharp eye and ear for the bizarre, the beautiful, and the uncomfortable, and with a generosity of spirit that even a misanthropic sense of humor can't fully disguise, Theft By Finding proves that Sedaris is one of our great modern observers. It's a potent reminder that when you're as perceptive and curious as Sedaris, there's no such thing as a boring day.
When You Are Engulfed in Flames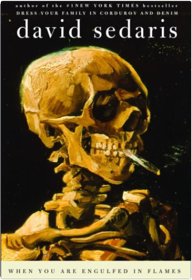 David Sedaris
"David Sedaris's ability to transform the mortification of everyday life into wildly entertaining art," (The Christian Science Monitor) is elevated to wilder and more entertaining heights than ever in this remarkable new book.
Trying to make coffee when the water is shut off, David considers using the water in a vase of flowers and his chain of associations takes him from the French countryside to a hilariously uncomfortable memory of buying drugs in a mobile home in rural North Carolina. In essay after essay, Sedaris proceeds from bizarre conundrums of daily life-having a lozenge fall from your mouth into the lap of a fellow passenger on a plane or armoring the windows with LP covers to protect the house from neurotic songbirds-to the most deeply resonant human truths. Culminating in a brilliant account of his venture to Tokyo in order to quit smoking, David Sedaris's sixth essay collection is a new masterpiece of comic writing from "a writer worth treasuring" (Seattle Times).

Praise for When You Are Engulfed in Flames:

"Older, wiser, smarter and meaner, Sedaris...defies the odds once again by delivering an intelligent take on the banalities of an absurd life." —Kirkus Reviews

This latest collection proves that not only does Sedaris still have it, but he's also getting better....Sedaris's best stuff will still—after all this time—move, surprise, and entertain." —Booklist

Table of Contents:

It's Catching
Keeping Up
The Understudy
This Old House
Buddy, Can You Spare a Tie?
Road Trips
What I Learned
That's Amore
The Monster Mash
In the Waiting Room
Solutions to Saturday's Puzzle
Adult Figures Charging Toward a Concrete Toadstool
Memento Mori
All the Beauty You Will Ever Need
Town and Country
Aerial
The Man in the Hut
Of Mice and Men
April in Paris
Crybaby
Old Faithful
The Smoking Section