Quack This Way: David Foster Wallace & Bryan A. Garner Talk Language and Writing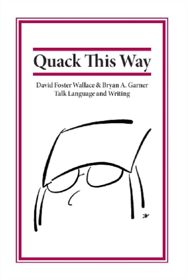 Bryan Garner, David Foster Wallace
David Foster Wallace was at the center of late-20th-century American literature, Bryan A. Garner at that of legal scholarship and lexicography. It was language that drew them together. The wide-ranging interview reproduced here memorializes 67 minutes of their second and final evening together, in February 2006. It was DFW's last long interview, and the only one devoted exclusively to language and writing.
Both Flesh and Not: Essays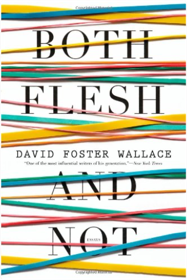 David Foster Wallace
Brilliant, dazzling, never-before-collected nonfiction writings by "aone of the most influential writers of his generation" (New York Times).

David Foster Wallace was beloved for his inimitable voice and wit-and, for many of his readers, admired as much for his astonishingly perceptive and inventive essays as he was for his fiction. Both Flesh and Not gathers fifteen of Wallace's seminal essays, all published in book form for the first time.

Never has Wallace's seemingly endless curiosity been more evident than in this compilation of work spanning nearly 20 years of writing. Here, Wallace turns his critical eye with equal enthusiasm toward Roger Federer and Jorge Luis Borges; Terminator 2 and The Best of the Prose Poem; the nature of being a fiction writer and the quandary of defining the essay; the best underappreciated novels and the English language's most irksome misused words; and much more.

In addition to these essays, Both Flesh and Not includes a selection from Wallace's personal vocabulary list, an assembly of unusual words and definitions that serve as a reminder of Wallace's ferocious love of language.

A sweeping, exhilarating collection of some of the author's most emotionally immediate work, Both Flesh and Not reminds us why A.O. Scott, writing in the New York Times, called David Foster Wallace "The best mind of his generation."
Brief Interviews with Hideous Men : Stories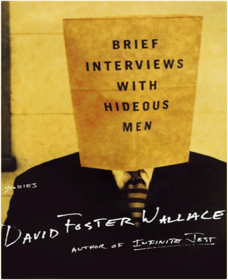 David Foster Wallace
The Broom of the System: A Novel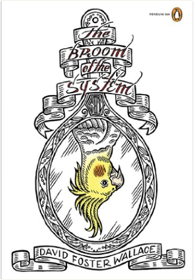 David Foster Wallace
The "dazzling, exhilarating" (San Francisco Chronicle) debut novel from one of this century's most groundbreaking writers, The Broom of the System is an outlandishly funny and fiercely intelligent exploration of the paradoxes of language, storytelling, and reality.
Consider the Lobster and Other Essays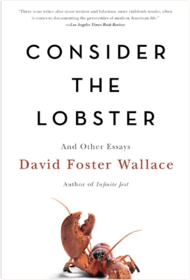 David Foster Wallace
Do lobsters feel pain? Did Franz Kafka have a funny bone? What is John Updike's deal, anyway? And what happens when adult video starlets meet their fans in person? David Foster Wallace answers these questions and more in essays that are also enthralling narrative adventures. Whether covering the three-ring circus of a vicious presidential race, plunging into the wars between dictionary writers, or confronting the World's Largest Lobster Cooker at the annual Maine Lobster Festival, Wallace projects a quality of thought that is uniquely his and a voice as powerful and distinct as any in American letters.
The David Foster Wallace Reader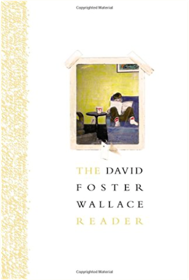 David Foster Wallace
Where do you begin with a writer as original and brilliant as David Foster Wallace? Here—with a carefully considered selection of his extraordinary body of work, chosen by a range of great writers, critics, and those who worked with him most closely. This volume presents his most dazzling, funniest, and most heartbreaking work—essays like his famous cruise-ship piece, "A Supposedly Fun Thing I'll Never Do Again," excerpts from his novels The Broom of the System, Infinite Jest, and The Pale King, and legendary stories like "The Depressed Person."

Wallace's explorations of morality, self-consciousness, addiction, sports, love, and the many other subjects that occupied him are represented here in both fiction and nonfiction. Collected for the first time are Wallace's first published story, "The View from Planet Trillaphon as Seen In Relation to the Bad Thing" and a selection of his work as a writing instructor, including reading lists, grammar guides, and general guidelines for his students.

A dozen writers and critics, including Hari Kunzru, Anne Fadiman, and Nam Le, add afterwords to favorite pieces, expanding our appreciation of the unique pleasures of Wallace's writing. The result is an astonishing volume that shows the breadth and range of "one of America's most daring and talented writers" (Los Angeles Times Book Review) whose work was full of humor, insight, and beauty.
Everything and More: A Compact History of Infinity (Great Discoveries)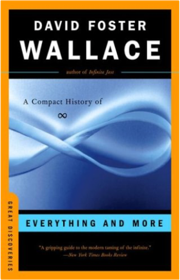 David Foster Wallace
Before discussing the merits of David Foster Wallace's Everything and More: A Compact History of Infinity, it is essential to define what the book is not. This volume in the "Great Discoveries" series is not a history of the personalities and social conditions that led to the "discovery" of infinity. Nor is it a narrative fixated on the cultish fear of—and obsession with—the infinite that has seemingly driven mathematicians insane over the centuries. Rather, Everything and More is a surprisingly rigorous march through the 2000 plus years of mathematical research that began with Aristotle; continued through Galileo, Isaac Newton, G.W. Leibniz, Karl Weierstrass, and J.W.R. Dedekind; and culminated in Georg Cantor and his Set Theory. The task Wallace (author of the bestseller Infinite Jest and other fiction) has set himself is enormously challenging: without radically compromising the complexity of the philosophy, metaphysics, or mathematics that underlies the evolving concept of infinity, present the material to a lay audience in a manner that is entertaining. To propel his narrative, Wallace even develops a style that mirrors the mathematical language he probes. One difficulty in his focus on concepts and not a strict human chronology, though, is that his structure is dependent on frequent digressions (especially early on). Patience is required. Wallace demands that his reader walk through the equations, study the graphs and charts, and relearn college-level concepts to follow along on the exploration. Indeed, after one wrenching dip into Zeno's paradoxes, Wallace spouts at his imagined complaining audience: "Deal." But the book should be deemed a success. If one grants him the attention he requires, Wallace has made the trip richly rewarding. —Patrick O'Kelley
Fate, Time, and Language: An Essay on Free Will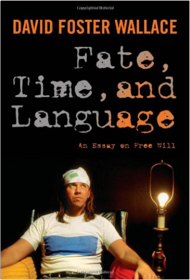 David Foster Wallace, Steven M. Cahn, Maureen Eckert
In 1962, the philosopher Richard Taylor used six commonly accepted presuppositions to imply that human beings have no control over the future. David Foster Wallace not only took issue with Taylor's method, which, according to him, scrambled the relations of logic, language, and the physical world, but also noted a semantic trick at the heart of Taylor's argument.

Fate, Time, and Language presents Wallace's brilliant critique of Taylor's work. Written long before the publication of his fiction and essays, Wallace's thesis reveals his great skepticism of abstract thinking made to function as a negation of something more genuine and real. He was especially suspicious of certain paradigms of thought-the cerebral aestheticism of modernism, the clever gimmickry of postmodernism-that abandoned "the very old traditional human verities that have to do with spirituality and emotion and community." As Wallace rises to meet the challenge to free will presented by Taylor, we witness the developing perspective of this major novelist, along with his struggle to establish solid logical ground for his convictions. This volume, edited by Steven M. Cahn and Maureen Eckert, reproduces Taylor's original article and other works on fatalism cited by Wallace. James Ryerson's introduction connects Wallace's early philosophical work to the themes and explorations of his later fiction, and Jay Garfield supplies a critical biographical epilogue.
Girl With Curious Hair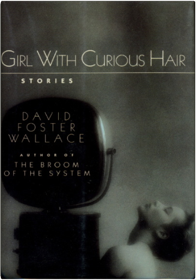 David Foster Wallace
In these stories, the author renders the bizarre normal and the absurd hilarious, from the eerily real , almost holographic evocations of historical figures, to overtelevised game-show hosts and late-night comedians. In the title story, punk nihilism meets Young Republicanism.
Oblivion: Stories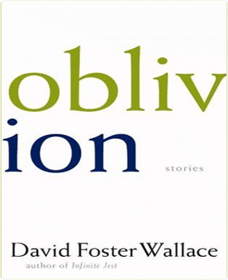 David Foster Wallace
Wallace conjoins the rawest, most naked humanity with the infinite convolutions of self-consciousness-a combination that is dazzlingly, uniquely his. These are worlds undreamt-of by any other mind. Only David Foster Wallace could convey a father's desperate loneliness by retelling the daydream that kept his son from noticing his fourth grade substitute teacher's homicidal breakdown ('The Soul Is Not a Smithy'), or explore the deepest (and most hilarious) aspects of creativity by delineating the office politics surrounding a magazine profile of an artist who produces miniature sculptures in an anatomically inconceivable way ('The Suffering Channel'). The man who believes his wife is hallucinating the sound of his snoring, the parolee who carries his spider collection with him on the bus, the market research professional whose office anxieties take a morbid turn-each of these is a complete world, as fully imagined as most entire novels, at once absurd and painfully real. Oblivion is a welcome new creation from the writer 'whose best work challenges and reinvents the art of fiction' (Atlanta Journal-Constitution).
The Pale King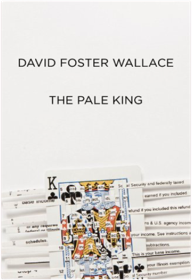 David Foster Wallace
The agents at the IRS Regional Examination Center in Peoria, Illinois, appear ordinary enough to newly arrived trainee David Foster Wallace. But as he immerses himself in a routine so tedious and repetitive that new employees receive boredom-survival training, he learns of the extraordinary variety of personalities drawn to this strange calling. And he has arrived at a moment when forces within the IRS are plotting to eliminate even what little humanity and dignity the work still has.

The Pale King remained unfinished at the time of David Foster Wallace's death, but it is a deeply compelling and satisfying novel, hilarious and fearless and as original as anything Wallace ever undertook. It grapples directly with ultimate questions—questions of life's meaning and of the value of work and society—through characters imagined with the interior force and generosity that were Wallace's unique gifts. Along the way it suggests a new idea of heroism and commands infinite respect for one of the most daring writers of our time.
Something to Do with Paying Attention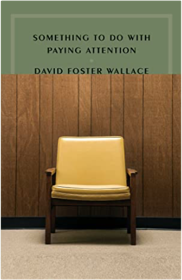 David Foster Wallace
String Theory: David Foster Wallace on Tennis: A Library of America Special Publication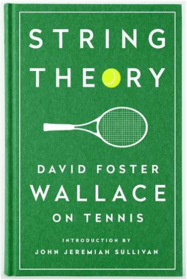 David Foster Wallace
An instant classic of American sportswriting—the tennis essays of David Foster Wallace, "the best mind of his generation" (A. O. Scott) and "the best tennis-writer of all time" (New York Times)
 
Gathered for the first time in a deluxe collector's edition, here are David Foster Wallace's legendary writings on tennis, five tour-de-force pieces written with a competitor's insight and a fan's obsessive enthusiasm. Wallace brings his dazzling literary magic to the game he loved as he celebrates the other-worldly genius of Roger Federer; offers a wickedly witty disection of Tracy Austin's memoir; considers the artistry of Michael Joyce, a supremely disciplined athlete on the threshold of fame; resists the crush of commerce at the U.S. Open; and recalls his own career as a "near-great" junior player.

Whiting Award-winning writer John Jeremiah Sullivan provides an introduction.
A Supposedly Fun Thing I'll Never Do Again: Essays and Arguments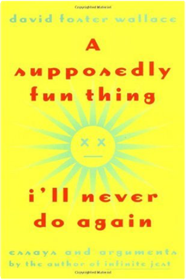 David Foster Wallace
Revealing a lively curiosity and sharp, ironic sense of humor, a collection of keen observations, witty analyses, and essays—which includes the acclaimed ""A Ticket to the Fair""—exposes the fault lines in today's society. 20,000 first printing. $20,000 ad/promo. Tour.
This Is Water: Some Thoughts, Delivered on a Significant Occasion, about Living a Compassionate Life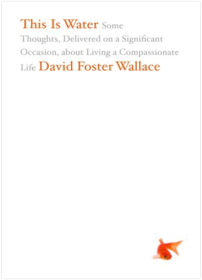 David Foster Wallace
Only once did David Foster Wallace give a public talk on his views on life, during a commencement address given in 2005 at Kenyon College. The speech is reprinted for the first time in book form in THIS IS WATER. How does one keep from going through their comfortable, prosperous adult life unconsciously? How do we get ourselves out of the foreground of our thoughts and achieve compassion? The speech captures Wallace's electric intellect as well as his grace in attention to others. After his death, it became a treasured piece of writing reprinted in The Wall Street Journal and the London Times, commented on endlessly in blogs, and emailed from friend to friend.

Writing with his one-of-a-kind blend of causal humor, exacting intellect, and practical philosophy, David Foster Wallace probes the challenges of daily living and offers advice that renews us with every reading.
Infinite Jest: A Novel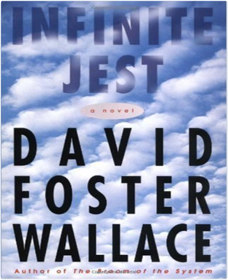 David Foster Wallace: