James Baldwin : Collected Essays : Notes of a Native Son / Nobody Knows My Name / The Fire Next Time / No Name in the Street / The Devil Finds Work / Other Essays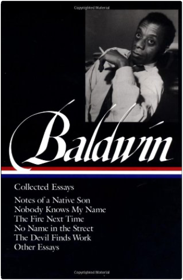 James Baldwin, Toni Morrison
"Collected Essays" is the most comprehensive gathering of Baldwin's nonfiction ever published. The collection confirms his as a uniquely prophetic voice in American letters. Included are such famous essays as "The Harlem Ghetto", "Everybody's Protest Novel", Many Thousands Gone", and "Stranger in the Village" .
Beloved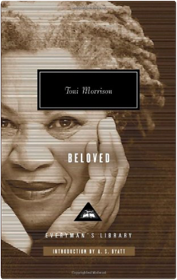 Toni Morrison
Winner of the Pulitzer Prize, Toni Morrison's Beloved is a spellbinding and dazzlingly innovative portrait of a woman haunted by the past.

 

Sethe was born a slave and escaped to Ohio, but eighteen years later she is still not free. She has borne the unthinkable and not gone mad, yet she is still held captive by memories of Sweet Home, the beautiful farm where so many hideous things happened. Meanwhile Sethe's house has long been troubled by the angry, destructive ghost of her baby, who died nameless and whose tombstone is engraved with a single word: Beloved.

Sethe works at beating back the past, but it makes itself heard and felt incessantly in her memory and in the lives of those around her. When a mysterious teenage girl arrives, calling herself Beloved, Sethe's terrible secret explodes into the present.

 

Combining the visionary power of legend with the unassailable truth of history, Morrison's unforgettable novel is one of the great and enduring works of American literature.

(Book Jacket Status: Jacketed)
The Bluest Eye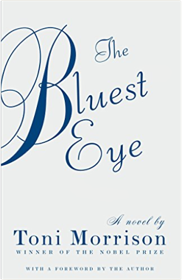 Toni Morrison
Pecola Breedlove, a young black girl, prays every day for beauty. Mocked by other children for the dark skin, curly hair, and brown eyes that set her apart, she yearns for normalcy, for the blond hair and blue eyes that she believes will allow her to finally fit in.Yet as her dream grows more fervent, her life slowly starts to disintegrate in the face of adversity and strife. A powerful examination of our obsession with beauty and conformity, Toni Morrison's virtuosic first novel asks powerful questions about race, class, and gender with the subtlety and grace that have always characterized her writing.
Paradise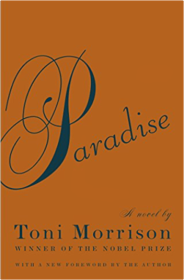 Toni Morrison
"They shoot the white girl first. With the rest they can take their time." So begins Toni Morrison's Paradise, which opens with a horrifying scene of mass violence and chronicles its genesis in an all-black small town in rural Oklahoma. Founded by the descendants of freed slaves and survivors in exodus from a hostile world, the patriarchal community of Ruby is built on righteousness, rigidly enforced moral law, and fear. But seventeen miles away, another group of exiles has gathered in a promised land of their own. And it is upon these women in flight from death and despair that nine male citizens of Ruby will lay their pain, their terror, and their murderous rage.
            In prose that soars with the rhythms, grandeur, and tragic arc of an epic poem, Toni Morrison challenges our most fiercely held beliefs as she weaves folklore and history, memory and myth into an unforgettable meditation on race, religion, gender, and a far-off past that is ever present.
Song of Solomon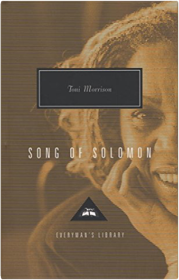 Toni Morrison
In this celebrated novel, Nobel Prize-winning author Toni Morrison created a new way of rendering the contradictory nuances of black life in America. Its earthy poetic language and striking use of folklore and myth established Morrison as a major voice in contemporary fiction.

 

Song of Solomon begins with one of the most arresting scenes in our century's literature: a dreamlike tableau depicting a man poised on a roof, about to fly into the air, while cloth rose petals swirl above the snow-covered ground and, in the astonished crowd below, one woman sings as another enters premature labor. The child born of that labor, Macon (Milkman) Dead, will eventually come to discover, through his complicated progress to maturity, the meaning of the drama that marked his birth. Toni Morrison's novel is at once a romance of self-discovery, a retelling of the black experience in America that uncovers the inalienable poetry of that experience, and a family saga luminous in its depth, imaginative generosity, and universality. It is also a tribute to the ways in which, in the hands of a master, the ancient art of storytelling can be used to make the mysterious and invisible aspects of human life apparent, real, and firm to the touch.

(Book Jacket Status: Jacketed)
The Source of Self-Regard: Selected Essays, Speeches, and Meditations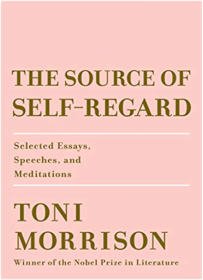 Toni Morrison
Arguably the most celebrated and revered writer of our time now gives us a new nonfiction collection—a rich gathering of her essays, speeches, and meditations on society, culture, and art, spanning four decades.

The Source of Self-Regard is brimming with all the elegance of mind and style, the literary prowess and moral compass that are Toni Morrison's inimitable hallmark. It is divided into three parts: the first is introduced by a powerful prayer for the dead of 9/11; the second by a searching meditation on Martin Luther King Jr., and the last by a heart-wrenching eulogy for James Baldwin. In the writings and speeches included here, Morrison takes on contested social issues: the foreigner, female empowerment, the press, money, "black matter(s)," and human rights. She looks at enduring matters of culture: the role of the artist in society, the literary imagination, the Afro-American presence in American literature, and in her Nobel lecture, the power of language itself. And here too is piercing commentary on her own work (including The Bluest Eye, Sula, Tar Baby, Jazz, Beloved, and Paradise) and that of others, among them, painter and collagist Romare Bearden, author Toni Cade Bambara, and theater director Peter Sellars. In all, The Source of Self-Regard is a luminous and essential addition to Toni Morrison's oeuvre.
Tar Baby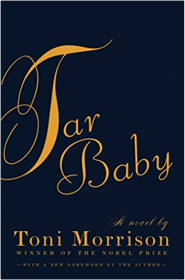 Toni Morrison
Ravishingly beautiful and emotionally incendiary, Tar Baby is Toni Morrison's reinvention of the love story. Jadine Childs is a black fashion model with a white patron, a white boyfriend, and a coat made out of ninety perfect sealskins. Son is a black fugitive who embodies everything she loathes and desires. As Morrison follows their affair, which plays out from the Caribbean to Manhattan and the deep South, she charts all the nuances of obligation and betrayal between blacks and whites, masters and servants, and men and women.
Toni Morrison Jazz Beloved Song of Solomon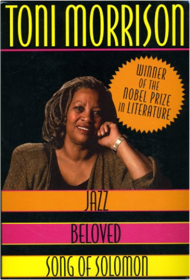 Toni Morrison