1876: A Novel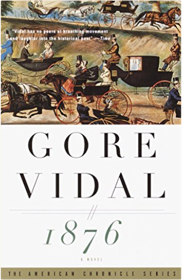 Gore Vidal
Gore Vidal's Narratives of Empire series spans the history of the United States from the Revolution to the post-World War II years. With their broad canvas and large cast of fictional and historical characters, the novels in this series present a panorama of the American political and imperial experience as interpreted by one of its most worldly, knowing, and ironic observers.

The centennial of the United States was celebrated with great fanfare—fireworks, exhibitions, pious calls to patriotism, and perhaps the most underhanded political machination in the country's history: the theft of the presidency from Samuel Tilden in favor of Rutherford B. Hayes. This was the Gilded Age, when robber barons held the purse strings of the nation, and the party in power was determined to stay in power. Gore Vidal's 1876 gives us the news of the day through the eyes of Charlie Schuyler, who has returned from exile to regain a lost fortune and arrange a marriage into New York society for his widowed daughter. And although Tammany Hall has faltered and Boss Tweed has fled, the effects of corruption reach deep, even into Schuyler's own family.
Burr: A Novel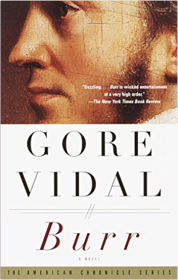 Gore Vidal
For readers who can't get enough of the hit Broadway musical Hamilton, Gore Vidal's stunning novel about Aaron Burr, the man who killed Alexander Hamilton in a duel—and who served as a successful, if often feared, statesman of our fledgling nation.   

Here is an extraordinary portrait of one of the most complicated—and misunderstood—figures among the Founding Fathers. In 1804, while serving as vice president, Aaron Burr fought a duel with his political nemesis, Alexander Hamilton, and killed him. In 1807, he was arrested, tried, and acquitted of treason. In 1833, Burr is newly married, an aging statesman considered a monster by many. But he is determined to tell his own story, and he chooses to confide in a young New York City journalist named Charles Schermerhorn Schuyler. Together, they explore both Burr's past—and the continuing civic drama of their young nation.
 
Burr is the first novel in Gore Vidal's Narratives of Empire series, which spans the history of the United States from the Revolution to post-World War II. With their broad canvas and sprawling cast of fictional and historical characters, these novels present a panorama of American politics and imperialism, as interpreted by one of our most incisive and ironic observers.
The City and the Pillar: A Novel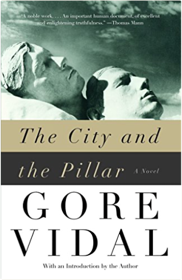 Gore Vidal
A literary cause célèbre when first published more than fifty years ago, Gore Vidal's now-classic The City and the Pillar stands as a landmark novel of the gay experience.

Jim, a handsome, all-American athlete, has always been shy around girls. But when he and his best friend, Bob, partake in "awful kid stuff," the experience forms Jim's ideal of spiritual completion. Defying his parents' expectations, Jim strikes out on his own, hoping to find Bob and rekindle their amorous friendship. Along the way he struggles with what he feels is his unique bond with Bob and with his persistent attraction to other men. Upon finally encountering Bob years later, the force of his hopes for a life together leads to a devastating climax. The first novel of its kind to appear on the American literary landscape, The City and the Pillar remains a forthright and uncompromising portrayal of sexual relationships between men.
Creation: A Novel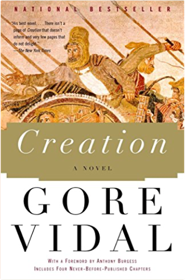 Gore Vidal
A sweeping novel of politics, war, philosophy, and adventure–in a restored edition, featuring never-before-published material from Gore Vidal's original manuscript–Creation offers a captivating grand tour of the ancient world.
Cyrus Spitama, grandson of the prophet Zoroaster and lifelong friend of Xerxes, spent most of his life as Persian ambassador for the great king Darius. He traveled to India, where he discussed nirvana with Buddha, and to the warring states of Cathay, where he learned of Tao from Master Li and fished on the riverbank with Confucius. Now blind and aged in Athens–the Athens of Pericles, Sophocles, Thucydides, Herodotus, and Socrates–Cyrus recounts his days as he strives to resolve the fundamental questions that have guided his life's journeys: how the universe was created, and why evil was created with good. In revisiting the fifth century b.c.–one of the most spectacular periods in history–Gore Vidal illuminates the ideas that have shaped civilizations for millennia.
Empire: A Novel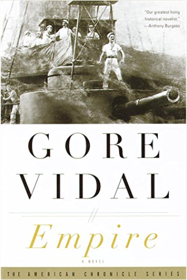 Gore Vidal
"Mr. Vidal demonstrates a political imagination and insider's sagacity equaled by no other practicing fiction writer I can think of. And like the earlier novels in his historical cycle, Empire is a wonderfully vivid documentary drama." —The New York Times Book Review

In this extraordinarily powerful epic Gore Vidal recreates America's Gilded Age—a period of promise and possibility, of empire-building and fierce political rivalries. In a vivid and beathtaking work of fiction, where the fortunes of a sister and brother intertwine with the fates of the generation, their country, and some of the greatest names of their day, including President McKinley, Theodore Roosevelt, William Jennings Bryan, William and Henry James, the Astors, the Vanderbilts, and the Whitneys, Gore Vidal sweeps us from the nineteenth century into the twentieth, from the salvaged republic of Lincoln to a nation boldly reaching for the world.
The Essential Gore Vidal : A Gore Vidal Reader
Gore Vidal
The range and size of Gore Vidal's literary achievement is remarkable. He is a master of the historical novel, in which he has explored American history, ancient history, and the history of religion. He has developed his own style of science fiction combined with satire, and in the books he refers to as his "inventions" he writes cautionary tales about sex, politics, art, and philosophy. He is at once a contrarian, a wise man, and a romantic. He is also wickedly funny, and often outrageous. All of these qualities are evident in his essays, which deal with things about which he feels passionately.

He writes about other writers—Tennessee Williams, Henry James, Montaigne, Edmund Wilson—and about public life, and his own life, which has been complicated and rich. This collection (the only single volume that includes both Vidal's fiction and his essays) contains two complete long works—Myra Breckinridge, perhaps his most famous novel, and The Best Man, a play about the American presidency. There are selections from The City and the Pillar, his early, controversial novel about homosexual love, and excerpts from such later works as Julian, Duluth, and Live from Golgotha. Selections from the American history novels—Burr, Lincoln, 1876, Empire, Hollywood, and Washington, D.C.—have been woven together to provide a continuous narrative. There are twenty-five essays here, on the many subjects that have engaged Vidal during his long career. The editor, Fred Kaplan, who is writing the first major biography of Vidal, has provided an introduction to the work as a whole as well as an introductory explanation of each selection. He has also prepared a biographical chronology and a bibliography.
The Golden Age: A Novel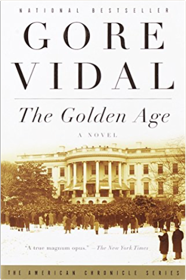 Gore Vidal
The Golden Age is Vidal's crowning achievement, a vibrant tapestry of American political and cultural life from 1939 to 1954, when the epochal events of World War II and the Cold War transformed America, once and for all, for good or ill, from a republic into an empire. The sharp-eyed and sympathetic witnesses to these events are Caroline Sanford, Hollywood actress turned Washington D.C., newspaper publisher, and Peter Sanford, her nephew and publisher of the independent intellectual journal The American Idea. They experience at first hand the masterful maneuvers of Franklin Roosevelt to bring a reluctant nation into the Second World War, and, later, the actions of Harry Truman that commit the nation to a decade-long twilight struggle against Communism—developments they regard with a decided skepticism even though it ends in an American global empire. The locus of these events is Washington D.C., yet the Hollywood film industry and the cultural centers of New York also play significant parts. In addition to presidents, the actual characters who appear so vividly in the pages of The Golden Age include Eleanor Roosevelt, Harry Hopkins, Wendell Willkie, William Randolph Hearst, Dean Acheson, Tennessee Williams, Joseph Alsop, Dawn Powell—and Gore Vidal himself.

The Golden Age offers up U.S. history as only Gore Vidal can, with unrivaled penetration, wit, and high drama, allied to a classical view of human fate. It is a supreme entertainment that is not only sure to be a major bestseller but that will also change listeners' understanding of American history and power.
Hollywood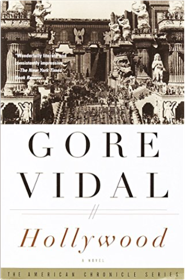 Gore Vidal
"Wicked and provocative...Vidal's purview of Hollywood in one of its golden ages is fascinating." —Chicago Tribune

In his brilliant and dazzling new novel, Gore Vidal sweeps us into one of the most fascinating periods of American political and social change. The time is 1917. In Washington, President Wilson is about to lead the United States into the Great War. In California, a new industry is born that will transform America: moving pictures. Here is history as only Gore Vidal can re-create it: brimming with intrigue and scandal, peopled by the greats of the silver screen and American politics, from Charlie Chaplin and Douglas Fairbanks to Franklin D. Roosevelt and the author's own grandfather, the blind Senator Gore. With Hollywood, Vidal once again proves himself a superb storyteller and a perceptive chronicler of human nature's endless deceptions.
Imperial America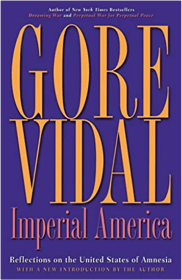 Gore Vidal
Julian: A Novel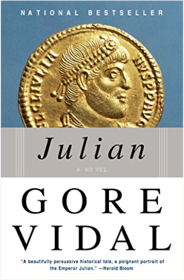 Gore Vidal
The remarkable bestseller about the fourth-century Roman emperor who famously tried to halt the spread of Christianity, Julian is widely regarded as one of Gore Vidal's finest historical novels.

Julian the Apostate, nephew of Constantine the Great, was one of the brightest yet briefest lights in the history of the Roman Empire. A military genius on the level of Julius Caesar and Alexander the Great, a graceful and persuasive essayist, and a philosopher devoted to worshipping the gods of Hellenism, he became embroiled in a fierce intellectual war with Christianity that provoked his murder at the age of thirty-two, only four years into his brilliantly humane and compassionate reign. A marvelously imaginative and insightful novel of classical antiquity, Julian captures the religious and political ferment of a desperate age and restores with blazing wit and vigor the legacy of an impassioned ruler.
Lincoln: A Novel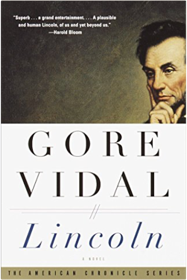 Gore Vidal
Gore Vidal's Narratives of Empire series spans the history of the United States from the Revolution to the post-World War II years. With their broad canvas and large cast of fictional and historical characters, the novels in this series present a panorama of the American political and imperial experience as interpreted by one of its most worldly, knowing, and ironic observers.

To most Americans, Abraham Lincoln is a monolithic figure, the Great Emancipator and Savior of the Union, beloved by all. In Gore Vidal's Lincoln we meet Lincoln the man and Lincoln the political animal, the president who entered a besieged capital where most of the population supported the South and where even those favoring the Union had serious doubts that the man from Illinois could save it. Far from steadfast in his abhorrence of slavery, Lincoln agonizes over the best course of action and comes to his great decision only when all else seems to fail. As the Civil War ravages his nation, Lincoln must face deep personal turmoil, the loss of his dearest son, and the harangues of a wife seen as a traitor for her Southern connections. Brilliantly conceived, masterfully executed, Gore Vidal's Lincoln allows the man to breathe again.
Live from Golgotha: The Gospel According to Gore Vidal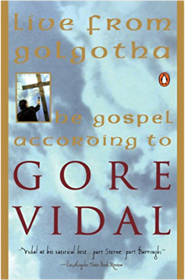 Gore Vidal
Timothy (later St. Timothy) is in his study in Thessalonika, where he is bishop of Macedonia. It is A.D. 96, and Timothy is under terrific pressure to record his version of the Sacred Story, since, far in the future, a cyberpunk (the Hacker) has been systematically destroying the tapes that describe the Good News, and Timothy's Gospel is the only one immune to the Hacker's deadly virus. Meanwhile, thanks to a breakthrough in computer software, an NBC crew is racing into the past to capture—live from the suburb of Golgotha—the Crucifixion, for a TV special guaranteed to boost the network's ratings in the fall sweeps.

As a stream of visitors from twentieth-century America channel in to the first-century Holy Land—Mary Baker Eddy, Shirley MacLaine, Oral Roberts and family—Timothy struggles to complete his story. But is Timothy's text really Hacker-proof? And how will he deal with the truth about Jesus' eating disorder? Above all, will he get the anchor slot for the Big Show at Golgotha without representation by a major agency, like CAA 1,896 years in the future? Tune in.
Myra Breckinridge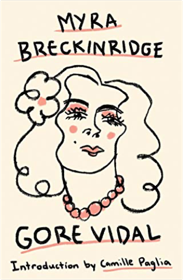 Gore Vidal
The outrageous and immortal, gender-bending and polymorphously perverse, over-the-top, and utterly on-target comic masterpiece from the bestselling author of Burr, Lincoln, and the National Book Award-winning United States.

With a new introduction by Camille Paglia

"I am Myra Breckinridge, whom no man will ever possess."

So begins the irresistible testimony of the luscious instructor of Empathy and Posture at Buck Loner's Academy of Drama and Modeling. Myra has a secret that only her surgeon shares; a passion for classic Hollywood films, which she regards as the supreme achievements of Western culture; and a sacred mission to bring heteronormative civilization to its knees.

Fifty years after its first publication unleashed gales of laughter, delight, and ferocious dissent ("Has literary decency fallen so low?" asked Time), Myra Breckinridge's moment to instruct and delight has once again arrived.
Palimpsest: A Memoir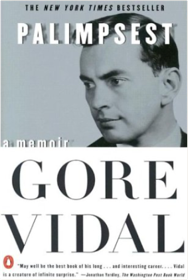 Gore Vidal
This explosively entertaining memoir abounds in gossip, satire, historical apercus, and trenchant observations. Vidal's compelling narrative weaves back and forth in time, providing a whole view of the author's celebrated life, from his birth in 1925 to today, and features a cast of memorable characters—including the Kennedy family, Marlon Brando, Anais Nin, and Eleanor Roosevelt. of photos.
Point to Point Navigation: A Memoir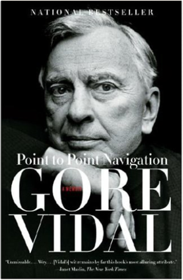 Gore Vidal
In a witty and elegant autobiography that takes up where his bestelling Palimpsest left off, the celebrated novelist, essayist, critic, and controversialist Gore Vidal reflects on his remarkable life.Writing from his desks in Ravello and the Hollywood Hills, Vidal travels in memory through the arenas of literature, television, film, theatre, politics, and international society where he has cut a wide swath, recounting achievements and defeats, friends and enemies made (and sometimes lost). From encounters with, amongst others, Jack and Jacqueline Kennedy, Tennessee Williams, Eleanor Roosevelt, Orson Welles, Johnny Carson, Francis Ford Coppola to the mournful passing of his longtime partner, Howard Auster, Vidal always steers his narrative with grace and flair. Entertaining, provocative, and often moving, Point to Point Navigation wonderfully captures the life of one of twentieth-century America's most important writers.
Selected Essays of Gore Vidal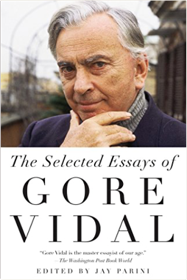 Gore Vidal
Gore Vidal—novelist, playwright, critic, screenwriter, memoirist, indefatigable political commentator, and controversialist—is America's premier man of letters. No other living writer brings more sparkling wit, vast learning, indelible personality, and provocative mirth to the job of writing an essay.This long-needed volume comprises some twenty-four of his best-loved pieces of criticism, political commentary, memoir, portraiture, and, occasionally, unfettered score settling. It will stand as one of the most enjoyable and durable works from the hand and mind of this vastly accomplished and entertaining immortal of American literature.
United States Essays 1952-1992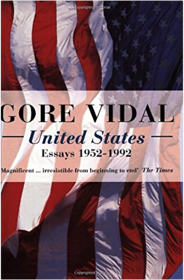 Gore Vidal