Black Mischief, Scoop, The Loved One, The Ordeal of Gilbert Pinfold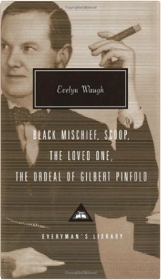 Evelyn Waugh
(Book Jacket Status: Jacketed)

In honor of the hundredth anniversary of Evelyn Waugh's birth, four of the master's most wickedly scathing comedies are here brought together in one volume.

Black Mischief is Waugh at his most mischievous–inventing a politically loopy African state as a means of pulverizing politics at home. In Scoop, it is journalism's turn to be drawn and quartered. The Loved One (which became a famously hilarious film) sends up the California mortuary business. And The Ordeal of Gilbert Pinfold is a burst of fictionalized autobiography in which Pinfold goes mad, more or less, on board an ocean liner.

Here in four short–very different–novels are the mordant wit, inspired farce, snapping dialogue, and amazing characters that are the essence of everything Waugh ever wrote.
Brideshead Revisited (Everyman's Library)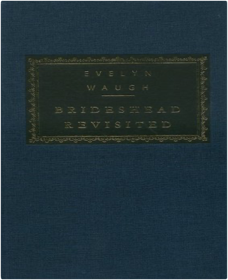 Evelyn Waugh
The Complete Short Stories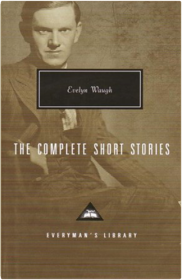 Evelyn Waugh
(Book Jacket Status: Jacketed)

Evelyn Waugh's short stories are the marvelous, concentrated riffs of his comic genius, revealing in miniaturized perfection all the elements that made him the greatest comic writer of our century. We find in them Waugh's almost superhuman technical skill as a writer and his quicksilver attentiveness to the minutiae of human absurdity, as well as his worldly knowledge, his tenderness, his perceptive compassion, and his sophisticated, disabused, but nevertheless forceful idealism.

The thirty-nine stories collected here include such small masterpieces as "Mr. Loveday's Little Outing" and "Scott-King's Modern Europe"; an alternative ending to Waugh's novel A Handful of Dust; a "missing chapter" in the life of Charles Ryder, the hero of Brideshead Revisited; and two linked stories, remnants of an abandoned novel that Waugh considered his best writing.

This edition contains the original illustrations to "Love Among the Ruins," as well as more than thirty graphics produced by the author as an Oxford undergraduate in the 1920s.
Decline and Fall (Everyman's Library Classics)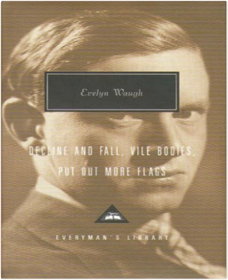 Evelyn Waugh
A Handful of Dust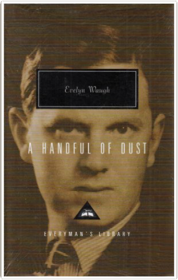 Evelyn Waugh
A HANDFUL OF DUST satirizes that stratum of English life where all the characters have money, but lack practically every other credential. Murderously urbane, it depicts the breakup of a marriage in the London gentry, where the errant wife suffers from terminal boredom and becomes enamored of a social parasite and professional lunch-goer.

The depravity and polished savagery of these characters offer an opportunity for Waugh's rapier wit and subtly to "show us fear in a handful of dust."

"Waugh's technique is relentless and razor-edged...by any standard it is super satire." (Chicago Daily News)
The Sword of Honour Trilogy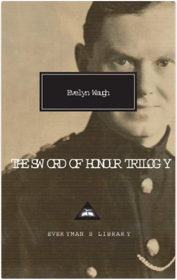 Evelyn Waugh
(Book Jacket Status: Jacketed)

This trilogy of novels about World War II, largely based on his own experiences as an army officer, is the crowning achievement of Evelyn Waugh's career. Its central character is Guy Crouchback, head of an ancient but decayed Catholic family, who at first discovers new purpose in the challenge to defend Christian values against Nazi barbarism, but then gradually finds the complexities and cruelties of war too much for him. Yet, though often somber, the Sword of Honour trilogy is also a brilliant comedy, peopled by the fantastic figures so familiar from Waugh's early satires. The deepest pleasures these novels afford come from observing a great satiric writer employ his gifts with extraordinary subtlety, delicacy, and human feeling, for purposes that are ultimately anything but satiric.
Waugh Abroad: The Collected Travel Writing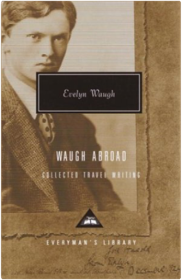 Evelyn Waugh
(Book Jacket Status: Jacketed)

Thirty years' worth of Evelyn Waugh's inimitable travel writings have been gathered together for the first time in one volume.

Waugh's accounts of his travels–spanning the years from 1929 to 1958–describe journeys through the West Indies, Mexico, South America, the Holy Land, and Africa. And just as his travels informed his fiction, his novelist's sensibility is apparent in each of these pieces. Waugh pioneered the genre of modern travel writing in which the comic predicament of the traveler is as central as the world he encounters. He wrote with as sharp an eye for folly as for foliage, and a delight in the absurd, not least where his own comfort and dignity are concerned.

From his fresh take on the well-traveled and hence already "fully labeled" Mediterranean region in Labels, to a close-up view of Haile Selassie's coronation in Remote People, from a comically miserable stint in British Guiana.