White Album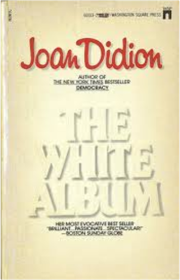 Didion
This collection of essays recounts what took place on the long morning after the 1960s, when everyone was coming down from their particular bad trip. Didion observes the dramas that explode as America goes into collective detox: the mother abandoning her five-year-old daughter on the central reservation of Interstate 5; Huey Newton and the Black Panthers preaching from their cells; students, in unconscious parody, simulating the disaffection of the 1960s. Didion hangs out with the Doors, parties with Janis Joplin, shops with the Manson clan, dines with Polanski and Sharon Tate, and goes to biker movies, "because there on the screen was some news I was not getting from the 'New York Times'". Joan Didion has also written "Sentimental Journeys" and "Slouching Towards Bethlehem".
PLAY IT AS IT LAYS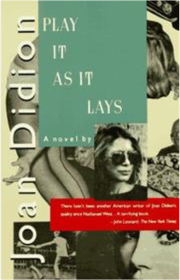 Joan didion
A ruthless dissection of American life in the late 1960s, from the author of The Last Thing He Wanted and A Book of Common Prayer. Somewhere out beyond Hollywood, resting actress Maria Wyeth drifts along the freeway in perpetual motion, anaesthetized to pain and pleasure, seemingly untainted by her personal history. She finds herself, in her early thirties, radically divorced from husband, lovers, friends, her own past and her own future. Play It As It Lays is set in a place beyond good and evil, literally in Los Angeles and Las Vegas and the barren wastes of the Mojave, but figuratively in the landscape of the arid soul. Capturing the mood of an entire generation, Didion chose Hollywood to serve as her microcosm of contemporary society and exposed a culture characterized by emptiness and ennui. Two decades after its original publication, it remains a profoundly disturbing novel, an immaculately wrought portrait of a world (California on the cusp of the 70s) where too much freedom made a lot of people ill.
After Henry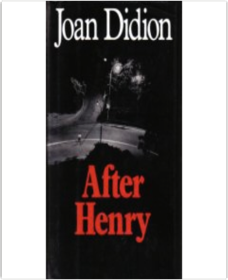 Joan Didion
Blue Nights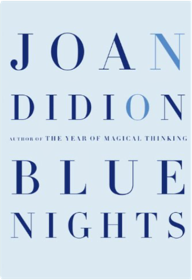 Joan Didion
From one of our most powerful writers, a work of stunning frankness about losing a daughter. Richly textured with bits of her own childhood and married life with her husband, John Gregory Dunne, and daughter, Quintana Roo, this new book by Joan Didion examines her thoughts, fears, and doubts regarding having children, illness, and growing old.
 
Blue Nights opens on July 26, 2010, as Didion thinks back to Quintana's wedding in New York seven years before. Today would be her wedding anniversary. This fact triggers vivid snapshots of Quintana's childhood—in Malibu, in Brentwood, at school in Holmby Hills. Reflecting on her daughter but also on her role as a parent, Didion asks the candid questions any parent might about how she feels she failed either because cues were not taken or perhaps displaced. "How could I have missed what was clearly there to be seen?" Finally, perhaps we all remain unknown to each other. Seamlessly woven in are incidents Didion sees as underscoring her own age, something she finds hard to acknowledge, much less accept.
 
Blue Nights—the long, light evening hours that signal the summer solstice, "the opposite of the dying of the brightness, but also its warning"—like The Year of Magical Thinking before it, is an iconic book of incisive and electric honesty, haunting and profoundly moving.
Democracy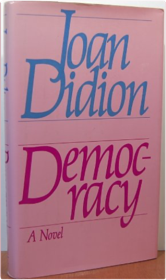 Joan Didion
Inez Victor knows that the major casualty of the political life is memory. But the people around Inez have made careers out of losing track. Her senator husband wants to forget the failure of his last bid for the presidency. Her husband's handler would like the press to forget that Inez's father is a murderer. And, in 1975, the year in which much of this bitterly funny novel is set, America is doing its best to lose track of its one-time client, the lethally hemorrhaging republic of South Vietnam.As conceived by Joan Didion, these personages and events constitute the terminal fallout of democracy, a fallout that also includes fact-finding junkets, senatorial groupies, the international arms market, and the Orwellian newspeak of the political class. Moving deftly from Honolulu to Jakarta, between romance, farce, and tragedy, Democracy is a tour de force from a writer who can dissect an entire society with a single phrase.
Fixed Ideas: America Since 9.11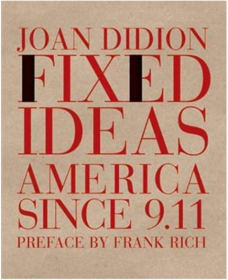 Joan Didion
In Fixed Ideas Joan Didion describes how, since September 11, 2001, there has been a determined effort by the administration to promote an imperial America —a "New Unilateralism"— and how, in many parts of America, there is now a "disconnect" between the government and citizens.

"[Americans] recognized even then [immediately after 9/11], with flames still visible in lower Manhattan, that the words 'bipartisanship' and 'national unity' had come to mean acquiescence to the administration's preexisting agenda —for example the imperative for further tax cuts, the necessity for Arctic drilling, the systematic elimination of regulatory and union protections, even the funding for the missile shield."

Frank Rich in his preface notes: "The reassuring point of the fixed ideas was to suppress other ideas that might prompt questions or fears about either the logic or hidden political agendas of those conducting what CNN branded as 'America's New War.'"

He adds, "This White House is famously secretive and on-message, but its skills go beyond that. It knows the power of narrative, especially a single narrative with clear-cut heroes and evildoers, and it knows how to drown out any distracting subplots before they undermine the main story."

Book and cover design by Milton Glaser, Inc.
Joan Didion: The 1960s & 70s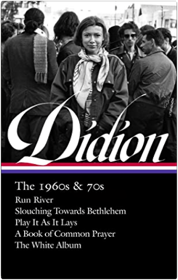 Joan Didion
Joan Didion: The 1980s & 90s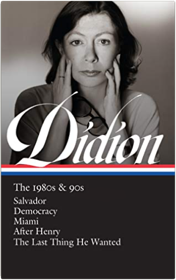 Joan Didion
Miami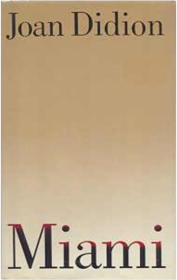 Joan Didion
It is where Fidel Castro raised money to overthrow Batista and where two generations of Castro's enemies have raised armies to overthrow him, so far without success. It is where the bitter opera of Cuban exile intersects with the cynicism of U.S. foreign policy. It is a city whose skyrocketing murder rate is fueled by the cocaine trade, racial discontent, and an undeclared war on the island ninety miles to the south.

As Didion follows Miami's drift into a Third World capital, she also locates its position in the secret history of the Cold War, from the Bay of Pigs to the Reagan doctrine and from the Kennedy assassination to the Watergate break-in. Miami is not just a portrait of a city, but a masterly study of immigration and exile, passion, hypocrisy, and political violence.

From the Trade Paperback edition.
Salvador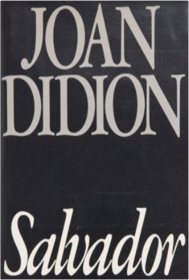 Joan Didion
"Terror is the given of the place." The place is El Salvador in 1982, at the ghastly height of its civil war. The writer is Joan Didion, who delivers an anatomy of that country's particular brand of terror–its mechanisms, rationales, and intimate relation to United States foreign policy.As ash travels from battlefields to body dumps, interviews a puppet president, and considers the distinctly Salvadoran grammar of the verb "to disappear," Didion gives us a book that is germane to any country in which bloodshed has become a standard tool of politics.
Slouching Towards Bethlehem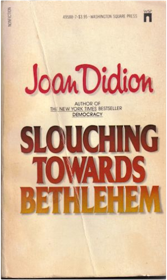 Joan Didion
Universally acclaimed when it was first published in 1968, Slouching Towards Bethlehem has become a modern classic. More than any other book of its time, this collection captures the mood of 1960s America, especially the center of its counterculture, California. These essays, keynoted by an extraordinary report on San Francisco's Haight-Ashbury, all reflect that, in one way or another, things are falling apart, "the center cannot hold." An incisive look at contemporary American life, Slouching Towards Bethlehem has been admired for several decades as a stylistic masterpiece.

Contents:

I. LIFE STYLES IN THE GOLDEN LAND
Some Dreamers of the Golden Dream
John Wayne: A Love Song
Where the Kissing Never Stops
Comrade Laski, C.P.U.S.A. (M.-L.)
7000 Romaine, Los Angeles 38
California Dreaming
Marrying Absurd
Slouching Towards Bethlehem

II. PERSONALS
On Keeping a Notebook
On Self-Respect
I Can't Get That Monster out of My Mind
On Morality
On Going Home

III. SEVEN PLACES OF THE MIND
Notes from a Native Daughter
Letter from Paradise, 21° 19' N., 157° 52' W
Rock of Ages
The Seacoast of Despair
Guaymas, Sonora
Los Angeles Notebook
Goodbye to All That
South and West: From a Notebook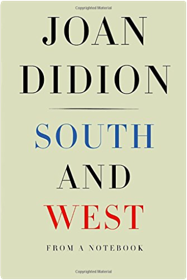 Joan Didion
From the best-selling author of the National Book Award-winning The Year of Magical Thinking: two extended excerpts from her never-before-seen notebooks—writings that offer an illuminating glimpse into the mind and process of a legendary writer.

Joan Didion has always kept notebooks: of overheard dialogue, observations, interviews, drafts of essays and articles—and here is one such draft that traces a road trip she took with her husband, John Gregory Dunne, in June 1970, through Louisiana, Mississippi, and Alabama. She interviews prominent local figures, describes motels, diners, a deserted reptile farm, a visit with Walker Percy, a ladies' brunch at the Mississippi Broadcasters' Convention. She writes about the stifling heat, the almost viscous pace of life, the sulfurous light, and the preoccupation with race, class, and heritage she finds in the small towns they pass through. And from a different notebook: the "California Notes" that began as an assignment from Rolling Stone on the Patty Hearst trial of 1976. Though Didion never wrote the piece, watching the trial and being in San Francisco triggered thoughts about the city, its social hierarchy, the Hearsts, and her own upbringing in Sacramento. Here, too, is the beginning of her thinking about the West, its landscape, the western women who were heroic for her, and her own lineage, all of which would appear later in her acclaimed 2003 book, Where I Was From.

 
One of TIME's most anticipated books of 2017
 
One of The New York Times Book Review's "What You'll Be Reading in 2017"
We Tell Ourselves Stories in Order to Live: Collected Nonfiction (Everyman's Library)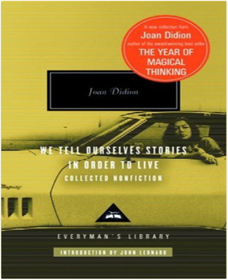 Joan Didion
The Year of Magical Thinking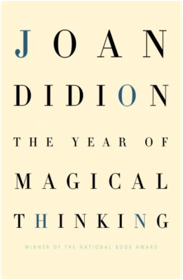 Joan Didion
From one of America's iconic writers, a stunning book of electric honesty and passion. Joan Didion explores an intensely personal yet universal experience: a portrait of a marriage–and a life, in good times and bad–that will speak to anyone who has ever loved a husband or wife or child.

Several days before Christmas 2003, John Gregory Dunne and Joan Didion saw their only daughter, Quintana, fall ill with what seemed at first flu, then pneumonia, then complete septic shock. She was put into an induced coma and placed on life support. Days later–the night before New Year's Eve–the Dunnes were just sitting down to dinner after visiting the hospital when John Gregory Dunne suffered a massive and fatal coronary. In a second, this close, symbiotic partnership of forty years was over. Four weeks later, their daughter pulled through. Two months after that, arriving at LAX, she collapsed and underwent six hours of brain surgery at UCLA Medical Center to relieve a massive hematoma.

This powerful book is Didion's attempt to make sense of the "weeks and then months that cut loose any fixed idea I ever had about death, about illness . . . about marriage and children and memory . . . about the shallowness of sanity, about life itself."
Political Fictions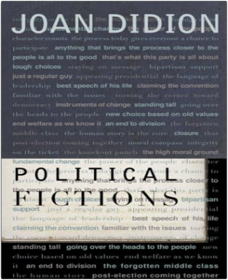 JOAN DIDION
Where I Was From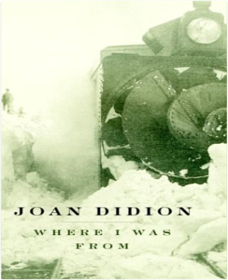 JOAN DIDION
Martin Heidegger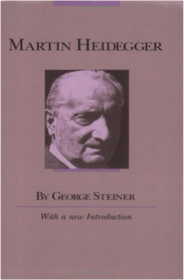 George Steiner
With characteristic lucidity and style, Steiner makes Heidegger's immensely difficult body of work accessible to the general reader. In a new introduction, Steiner addresses language and philosophy and the rise of Nazism.

"It would be hard to imagine a better introduction to the work of philosopher Martin Heidegger."—George Kateb, The New Republic