The Golden House: A Novel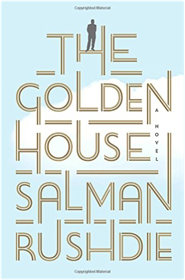 Salman Rushdie
NEW YORK TIMES BESTSELLER • A modern American epic set against the panorama of contemporary politics and culture—a hurtling, page-turning mystery that is equal parts The Great Gatsby and The Bonfire of the Vanities

On the day of Barack Obama's inauguration, an enigmatic billionaire from foreign shores takes up residence in the architectural jewel of "the Gardens," a cloistered community in New York's Greenwich Village. The neighborhood is a bubble within a bubble, and the residents are immediately intrigued by the eccentric newcomer and his family. Along with his improbable name, untraceable accent, and unmistakable whiff of danger, Nero Golden has brought along his three adult sons: agoraphobic, alcoholic Petya, a brilliant recluse with a tortured mind; Apu, the flamboyant artist, sexually and spiritually omnivorous, famous on twenty blocks; and D, at twenty-two the baby of the family, harboring an explosive secret even from himself. There is no mother, no wife; at least not until Vasilisa, a sleek Russian expat, snags the septuagenarian Nero, becoming the queen to his king—a queen in want of an heir.

Our guide to the Goldens' world is their neighbor René, an ambitious young filmmaker. Researching a movie about the Goldens, he ingratiates himself into their household. Seduced by their mystique, he is inevitably implicated in their quarrels, their infidelities, and, indeed, their crimes. Meanwhile, like a bad joke, a certain comic-book villain embarks upon a crass presidential run that turns New York upside-down.

Set against the strange and exuberant backdrop of current American culture and politics, The Golden House also marks Salman Rushdie's triumphant and exciting return to realism. The result is a modern epic of love and terrorism, loss and reinvention—a powerful, timely story told with the daring and panache that make Salman Rushdie a force of light in our dark new age.

Praise for The Golden House

"If you read a lot of fiction, you know that every once in a while you stumble upon a book that transports you, telling a story full of wonder and leaving you marveling at how it ever came out of the author's head. The Golden House is one of those books. . . . [It] tackles more than a handful of universal truths while feeling wholly original."—The Associated Press
 
"The Golden House . . . ranks among Rushdie's most ambitious and provocative books [and] displays the quicksilver wit and playful storytelling of Rushdie's best work."—USA Today
 
"[The Golden House] is a recognizably Rushdie novel in its playfulness, its verbal jousting, its audacious bravado, its unapologetic erudition, and its sheer, dazzling brilliance."—The Boston Globe
Joseph Anton: A Memoir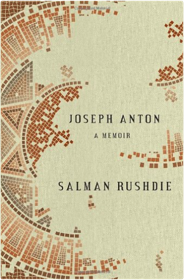 Salman Rushdie
On February 14, 1989, Valentine's Day, Salman Rushdie was telephoned by a BBC journalist and told that he had been "sentenced to death" by the Ayatollah Khomeini. For the first time he heard the word fatwa. His crime? To have written a novel called The Satanic Verses, which was accused of being "against Islam, the Prophet and the Quran."
 
So begins the extraordinary story of how a writer was forced underground, moving from house to house, with the constant presence of an armed police protection team. He was asked to choose an alias that the police could call him by. He thought of writers he loved and combinations of their names; then it came to him: Conrad and Chekhov—Joseph Anton.
 
How do a writer and his family live with the threat of murder for more than nine years? How does he go on working? How does he fall in and out of love? How does despair shape his thoughts and actions, how and why does he stumble, how does he learn to fight back? In this remarkable memoir Rushdie tells that story for the first time; the story of one of the crucial battles, in our time, for freedom of speech. He talks about the sometimes grim, sometimes comic realities of living with armed policemen, and of the close bonds he formed with his protectors; of his struggle for support and understanding from governments, intelligence chiefs, publishers, journalists, and fellow writers; and of how he regained his freedom.
 
It is a book of exceptional frankness and honesty, compelling, provocative, moving, and of vital importance. Because what happened to Salman Rushdie was the first act of a drama that is still unfolding somewhere in the world every day.

Praise for Salman Rushdie
 
"In Salman Rushdie . . . India has produced a glittering novelist—one with startling imaginative and intellectual resources, a master of perpetual storytelling."—The New Yorker
 
"Salman Rushdie has earned the right to be called one of our great storytellers."—The Observer
 
"Our most exhilaratingly inventive prose stylist, a writer of breathtaking originality."—Financial Times
Languages of Truth: Essays 2003-2020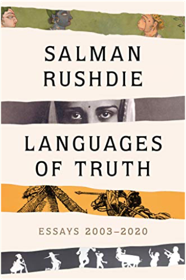 Salman Rushdie
Luka and the Fire of Life: A Novel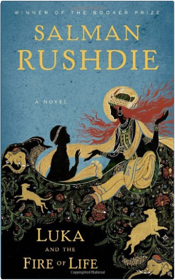 Salman Rushdie
With the same dazzling imagination and love of language that have made Salman Rushdie one of the great storytellers of our time, Luka and the Fire of Life revisits the magic-infused, intricate world he first brought to life in the modern classic Haroun and the Sea of Stories. This breathtaking new novel centers on Luka, Haroun's younger brother, who must save his father from certain doom.

For Rashid Khalifa, the legendary storyteller of Kahani, has fallen into deep sleep from which no one can wake him. To keep his father from slipping away entirely, Luka must travel to the Magic World and steal the ever-burning Fire of Life. Thus begins a quest replete with unlikely creatures, strange alliances, and seemingly insurmountable challenges as Luka and an assortment of enchanted companions race through peril after peril, pass through the land of the Badly Behaved Gods, and reach the Fire itself, where Luka's fate, and that of his father, will be decided.

Filled with mischievous wordplay and delving into themes as universal as the power of filial love and the meaning of mortality, Luka and the Fire of Life is a book of wonders for all ages.
Quichotte: A Novel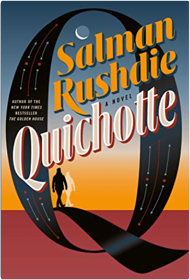 Salman Rushdie
A dazzling Don Quixote for the modern age—an epic tour de force that is as much an homage to an immortal work of literature as it is to the quest for love and family, by Booker Prize–winning, internationally bestselling author Salman Rushdie 

SHORTLISTED FOR THE BOOKER PRIZE

Inspired by the Cervantes classic, Sam DuChamp, mediocre writer of spy thrillers, creates Quichotte, a courtly, addled salesman obsessed with television who falls in impossible love with a TV star. Together with his (imaginary) son Sancho, Quichotte sets off on a picaresque quest across America to prove worthy of her hand, gallantly braving the tragicomic perils of an age where "Anything-Can-Happen." Meanwhile, his creator, in a midlife crisis, has equally urgent challenges of his own.

Just as Cervantes wrote Don Quixote to satirize the culture of his time, Rushdie takes the reader on a wild ride through a country on the verge of moral and spiritual collapse. And with the kind of storytelling magic that is the hallmark of Rushdie's work, the fully realized lives of DuChamp and Quichotte intertwine in a profoundly human quest for love and a wickedly entertaining portrait of an age in which fact is so often indiscernible from fiction.

Praise for Quichotte

"Lovely, unsentimental, heart-affirming . . . a remembrance of what holds our human lives in some equilibrium—a way of feeling and a way of telling. Love and language."—Jeanette Winterson, The New York Times Book Review

"Brilliant . . . a perfect fit for a moment of transcontinental derangement."—Financial Times

"Quichotte is one of the cleverest, most enjoyable metafictional capers this side of postmodernism. . . . The narration is fleet of foot, always one step ahead of the reader—somewhere between a pinball machine and a three-dimensional game of snakes and ladders. . . . This novel can fly, it can float, it's anecdotal, effervescent, charming, and a jolly good story to boot."—The Sunday Times

"Quichotte [is] an updating of Cervantes's story that proves to be an equally complicated literary encounter, jumbling together a chivalric quest, a satire on Trump's America and a whole lot of postmodern playfulness in a novel that is as sharp as a flick-knife and as clever as a barrel of monkeys. . . . This is a novel that feeds the heart while it fills the mind."—The Times (UK)
Shalimar the Clown: A Novel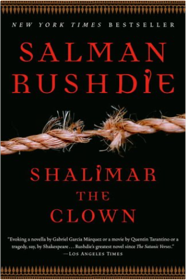 Salman Rushdie
"Dazzling . . . Modern thriller, Ramayan epic, courtroom drama, slapstick comedy, wartime adventure, political satire, village legend–they're all blended here magnificently."
–The Washington Post Book World

This is the story of Maximilian Ophuls, America's counterterrorism chief, one of the makers of the modern world; his Kashmiri Muslim driver and subsequent killer, a mysterious figure who calls himself Shalimar the clown; Max's illegitimate daughter India; and a woman who links them, whose revelation finally explains them all. It is an epic narrative that moves from California to Kashmir, France, and England, and back to California again. Along the way there are tales of princesses lured from their homes by demons, legends of kings forced to defend their kingdoms against evil. And there is always love, gained and lost, uncommonly beautiful and mortally dangerous.

"A commanding story . . . [a] harrowing climax . . . Revenge is an ancient and powerful engine of narrative."
–The New York Times Book Review

"Absorbing . . . Everywhere [Rushdie] takes us there is both love and war, in strange and terrifying combinations, painted in swaying, swirling, world-eating prose that annihilates the borders between East and West, love and hate, private lives and the history they make."
–Time

"A vast, richly peopled, beautiful and deeply rageful book that serves as a profound and disturbing artifact of our times."
–San Francisco Chronicle

"Marvelous . . . brilliant . . . a story worthy of [Rushdie's] genius."
–Detroit Free Press

ONE OF THE BEST BOOKS OF THE YEAR
– The Washington Post Book World –Los Angeles Times Book Review –St. Louis Post-Dispatch –Rocky Mountain News

ONE OF THE BEST NOVELS OF THE YEAR
–Time –Chicago Tribune –The Christian Science Monitor
The Moor's Last Sigh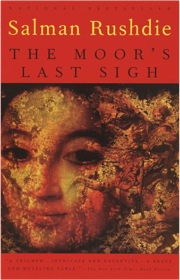 Salman Rushdie
The Satanic Verses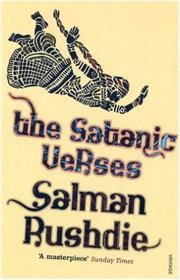 Salman Rushdie
No book in modern times has matched the uproar sparked by Salman Rushdie's The Satanic Verses, which earned its author a death sentence. Furor aside, it is a marvelously erudite study of good and evil, a feast of language served up by a writer at the height of his powers, and a rollicking comic fable. The book begins with two Indians, Gibreel Farishta ("for fifteen years the biggest star in the history of the Indian movies") and Saladin Chamcha, a Bombay expatriate returning from his first visit to his homeland in 15 years, plummeting from the sky after the explosion of their jetliner, and proceeds through a series of metamorphoses, dreams and revelations. Rushdie's powers of invention are astonishing in this Whitbread Prize winner.
Two Years Eight Months and Twenty-Eight Nights: A Novel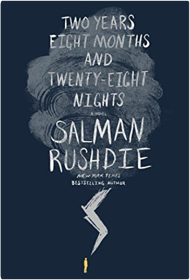 Salman Rushdie
NEW YORK TIMES BESTSELLER

From Salman Rushdie, one of the great writers of our time, comes a spellbinding work of fiction that blends history, mythology, and a timeless love story. A lush, richly layered novel in which our world has been plunged into an age of unreason, Two Years Eight Months and Twenty-Eight Nights is a breathtaking achievement and an enduring testament to the power of storytelling.

In the near future, after a storm strikes New York City, the strangenesses begin. A down-to-earth gardener finds that his feet no longer touch the ground. A graphic novelist awakens in his bedroom to a mysterious entity that resembles his own sub–Stan Lee creation. Abandoned at the mayor's office, a baby identifies corruption with her mere presence, marking the guilty with blemishes and boils. A seductive gold digger is soon tapped to combat forces beyond imagining.

Unbeknownst to them, they are all descended from the whimsical, capricious, wanton creatures known as the jinn, who live in a world separated from ours by a veil. Centuries ago, Dunia, a princess of the jinn, fell in love with a mortal man of reason. Together they produced an astonishing number of children, unaware of their fantastical powers, who spread across generations in the human world.

Once the line between worlds is breached on a grand scale, Dunia's children and others will play a role in an epic war between light and dark spanning a thousand and one nights—or two years, eight months, and twenty-eight nights. It is a time of enormous upheaval, in which beliefs are challenged, words act like poison, silence is a disease, and a noise may contain a hidden curse.

Inspired by the traditional "wonder tales" of the East, Salman Rushdie's novel is a masterpiece about the age-old conflicts that remain in today's world. Two Years Eight Months and Twenty-Eight Nights is satirical and bawdy, full of cunning and folly, rivalries and betrayals, kismet and karma, rapture and redemption.

Praise for Two Years Eight Months and Twenty-Eight Nights

"Incandescent . . . brilliant, ambitious . . . Rushdie's stature as one of the major literary voices of our time was already secure. And yet, in reading this new book, one cannot escape the feeling that all those years of writing and success have perhaps been preparation for this moment, for the creation of this tremendously inventive and timely novel."—San Francisco Chronicle

"Erudite without flaunting it, an amusement park of a pulpy disaster novel that resists flying out of control by being grounded by religion, history, culture and love."—Los Angeles Times

"Splendid and heartfelt . . . There's an abundance of authorial winking here, the unabashed symbolism and double entendres quickly stacking up in a manner that wires Rushdie into an ancient storytelling tradition."—The Boston Globe

"Rushdie's brilliance is in the balance between high art and pop culture. . . . A novel of both intellectual heft and sheer reading pleasure—a rare feat."—St. Louis Post-Dispatch

"In these nested, swirling tales, Rushdie conjures up a whole universe of jinn slithering across time and space, meddling in human affairs and copulating like they've just been released from twenty years in a lamp."—The Washington Post

"Rushdie is our Scheherazade, inexhaustibly enfolding story within story and unfolding tale after tale with such irrepressible delight that it comes as a shock to remember that, like her, he has lived the life of a storyteller in immediate peril."—Ursula K. Le Guin, The Guardian
Victory City: A Novel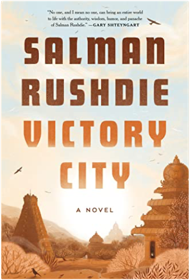 Rushdie, Salman
Midnight's Children (Everyman's Library (Cloth))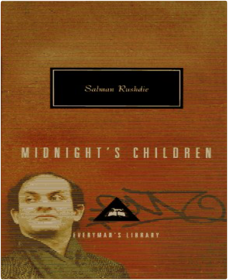 SALMAN RUSHDIE
Anyone who has spent time in the developing world will know that one of Bombay's claims to fame is the enormous film industry that churns out hundreds of musical fantasies each year. The other, of course, is native son Salman Rushdie—less prolific, perhaps than Bollywood, but in his own way just as fantastical. Though Rushdie's novels lack the requisite six musical numbers that punctuate every Bombay talkie, they often share basic plot points with their cinematic counterparts. Take, for example, his 1980 Booker Prize-winning Midnight's Children: two children born at the stroke of midnight on August 15, 1947—the moment at which India became an independent nation—are switched in the hospital. The infant scion of a wealthy Muslim family is sent to be raised in a Hindu tenement, while the legitimate heir to such squalor ends up establishing squatters' rights to his unlucky hospital mate's luxurious bassinet. Switched babies are standard fare for a Hindi film, and one can't help but feel that Rushdie's world-view—and certainly his sense of the fantastical—has been shaped by the films of his childhood. But whereas the movies, while entertaining, are markedly mediocre, Midnight's Children is a masterpiece, brilliant written, wildly unpredictable, hilarious and heartbreaking in equal measure.

Rushdie's narrator, Saleem Sinai, is the Hindu child raised by wealthy Muslims. Near the beginning of the novel, he informs us that he is falling apart—literally: I mean quite simply that I have begun to crack all over like an old jug—that my poor body, singular, unlovely, buffeted by too much history, subjected to drainage above and drainage below, mutilated by doors, brained by spittoons, has started coming apart at the seams. In short, I am literally disintegrating, slowly for the moment, although there are signs of an acceleration. In light of this unfortunate physical degeneration, Saleem has decided to write his life story, and, incidentally, that of India's, before he crumbles into "(approximately) six hundred and thirty million particles of anonymous, and necessarily oblivious, dust." It seems that within one hour of midnight on India's independence day, 1,001 children were born. All of those children were endowed with special powers: some can travel through time, for example; one can change gender. Saleem's gift is telepathy, and it is via this power that he discovers the truth of his birth: that he is, in fact, the product of the illicit coupling of an Indian mother and an English father, and has usurped another's place. His gift also reveals the identities of all the other children and the fact that it is in his power to gather them for a "midnight parliament" to save the nation. To do so, however, would lay him open to that other child, christened Shiva, who has grown up to be a brutish killer. Saleem's dilemma plays out against the backdrop of the first years of independence: the partition of India and Pakistan, the ascendancy of "The Widow" Indira Gandhi, war, and, eventually, the imposition of martial law.

We've seen this mix of magical thinking and political reality before in the works of Günter Grass and Gabriel García Márquez. What sets Rushdie apart is his mad prose pyrotechnics, the exuberant acrobatics of rhyme and alliteration, pun, wordplay, proper and "Babu" English chasing each other across the page in a dizzying, exhilarating cataract of words. Rushdie can be laugh-out-loud funny, but make no mistake—this is an angry book, and its author's outrage lends his language wings. Midnight's Children is Salman Rushdie's irate, affectionate love song to his native land—not so different from a Bombay talkie, after all. —Alix Wilber