Ardent Spirits: Leaving Home, Coming Back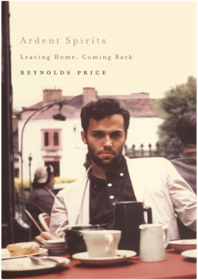 Reynolds Price
In his third volume of memoir, Reynolds Price explores six crucial years of his life — his departure from home in 1955 to spend three years as a student at Oxford University; then his return to North Carolina to begin his long career as a university teacher.

He gives often moving, and frequently comic, portraits of his great teachers in England — such men as Lord David Cecil, Nevill Coghill, and W. H. Auden, who was the most distinguished English-language poet of those years. In London the poet and editor Stephen Spender becomes his first publisher and a generous friend who introduces him to rewarding figures like the essayist Cyril Connolly and George Orwell's encouraging widow, Sonia. He spends rich months traveling in Britain and on the Continent; and above all he undergoes the first loves of his life — one with an Oxford colleague whom he describes as a "romantic friend" and another with an older man.

Back in the States, in his first class at Duke he meets a startlingly gifted student in the sixteen-year-old Anne Tyler; and he soon combines the difficult pleasures of teaching English composition and literature with his own hard delight in learning to write a first novel. At the end of three lonely years, he completes the novel — A Long and Happy Life — and returns to England for a fourth year before his novel appears in Britain and America and meets with a success that sets the pace for an ongoing life of fiction, poetry, plays, essays, and translations (Ardent Spirits is his thirty-eighth volume).

The droll memories recorded here amount to the unsurpassed — and, again, often comical — story of a writer's beginnings; and the young man who emerges has proven his right to stand by his fellows of whatever sex and goal. Ardent Spirits is a book that penetrates deeply into the life of a writer, a teacher, and a steadfast lover.
Blue Calhoun: A Novel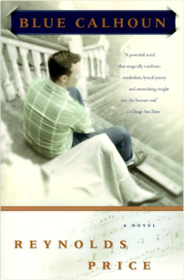 Reynolds Price
"This starts with the happiest I ever was, though it brought down suffering on everybody near me. Short as it lasted and long ago, I've never laid it all out yet, not start to finish. But if I try and half succeed, you may wind up understanding things, choosing a better road for yourself and maybe not blaming the dead past but living for the here and now, each day a clean page."

April 28, 1956, was the day Blue Calhoun met a sixteen-year-old girl named Luna. And for the next three decades, their love has borne consequences of the most shattering — and ultimately, perhaps healing — kind for everyone they know. As Blue recounts the years and their events for us — fervently, tenderly, knowing full well his own deep responsibility — we are made witnesses to a story of classic dimensions, a story of love and suffering, family and friendship, death and redemption.
Clear Pictures: First Loves First Guides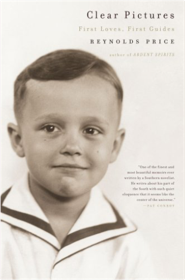 Reynolds Price
Reynolds Price, novelist, poet, playwright and essayist, author of the bestseller Kate Vaiden and the recent Roxanna Slade, is one of the most accomplished writers ever to come out of the South. He is an author rooted in its old life and ways; and this is his vivid, powerful memoir of his first twenty-one years growing up in North Carolina. Spanning the years from 1933 to 1954, Price accurately captures the spirit of a community recovering from the Depression, living through World War II and then facing the economic and social changes of the 1950s. In closely linked chapters focusing on individuals, Price describes with compassion and honesty the white and black men and women who shaped his youth. The cast includes his young, devoted parents; a loving aunt; his younger brother Bill; childhood friends and enemies and the teachers who fostered and encouraged his love of writing. Clear Pictures is an autobiography set apart from others by the author's clarity of vision, the power of his characters and the richness of his writing.
Kate Vaiden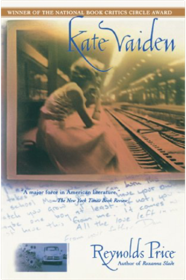 Reynolds Price
0ne of the most feisty, spellbinding and engaging heroines in modern fiction captures the essence of her own life in this contemporary American odyssey born of red-clay land and small-town people. We meet Kate at a crucial moment in middle age when she begins to yearn to see the son she abandoned when she was seventeen. But if she decides to seek him, will he understand her? Winner of the National Book Critics Circle Award, Kate Vaiden is a penetrating psychological portrait of an ordinary woman in extraordinary circumstances, a story as joyous, tragic, comic and compelling as life itself.
A Long and Happy Life: A Novel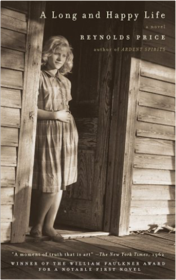 Reynolds Price
FROM ITS DAZZLING OPENING PAGE, WHICH ANNOUNCED THE appearance of a stylist of the first rank, to its moving close, this brief novel has charmed and captivated millions of readers since its original publication almost fifty years ago. The troubled love story of pretty, headstrong Rosacoke Mustian and the motorcycle-riding, stoic Wesley Beavers, A Long and Happy Life beautifully evokes a rural North Carolina now long gone.

Ecstatically reviewed and winner of the William Faulkner Award for a notable first novel when it was published in 1962, A Long and Happy Life launched the career of Reynolds Price, a writer considered to be "one of our greatest novelists" (HARPER LEE).
Midstream: An Unfinished Memoir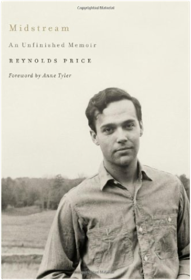 Reynolds Price
The final book from Reynolds Price, "one of the most important voices in modern Southern fiction" (The New York Times)—with a foreword by Anne Tyler and an afterwordby William Price

WHEN REYNOLDS PRICE DIED IN JANUARY 2011, he left behind one final piece of writing—two hundred candid, heartrending, and marvelously written manuscript pages about a critical period in his young adulthood. Picking up where his previous memoir, Ardent Spirits, left off, the work documents a brief time from 1961 to 1965, perhaps the most leisurely of Price's life, but also one of enormous challenge and growth. Price gave it the title Midstream. Approaching thirty, Price writes, is to face the notion that "This is it. I'm now the person I'm likely to be . . . from here to the end." Midstream, which begins when Price is twenty-eight, details the final youthful adventures of a man on the cusp of artistic acclaim. Here, Price chases a love to England, only to meet heartbreak. Determined to pursue other pleasures, he travels to Sweden for a friend's wedding, then journeys to Rome with British poet Stephen Spender and spends an afternoon with Richard Burton and Elizabeth Taylor. Price returns to the United States, where he finds company with a group of artists as he awaits the 1962 publication of his first novel, A Long and Happy Life.

"Few writers have made as dramatic an entrance on the American literary stage," declared The New York Times on the book's success. Price would settle into a tranquil life in North Carolina, buy a house, and resume teaching. Concluding with his mother's death and Price's new endeavors—a second novel and foray into Hollywood screenwriting—Midstream offers a poignant portrait of a man at the threshold of true adulthood, navigating new responsibilities and pleasures alike. It is a fitting bookend for Price's remarkable career, and it reinforces his place in the pantheon of American literature.

***

 

FROM ANNE TYLER'S FOREWORD TO MIDSTREAM

"Just look at him flying across the campus, curls bouncing, dark eyes flashing, and a black cape (I swear it) flaring out behind him. Actually he never owned a black cape; he told me that, years later. He said it was a navy jacket, just tossed over his shoulders. But still, he was wearing a virtual cape, if you know what I mean. He was an exclamation point in a landscape of mostly declarative sentences. He lived in a house-trailer out in the woods; he invited us to come there and drink smoky-tasting tea in handmade mugs. Speaking with a trace of an English accent from his recent studies at Oxford (for he had a genius for unintentional mimicry, which he said could become a curse in certain situations), he told us funny, affectionate tales about his childhood in backwater Macon. Most of us came from Macons of our own; we were astonished to hear that they were fit subjects for storytelling. All over again, inspiration hit. Let us out of there! We had to get back to our rooms and start writing."
The Surface of Earth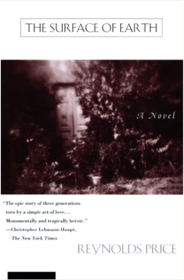 Reynolds Price
Published in 1975, The Surface of Earth is the monumental narrative that charts the slow, inextricable twining of the Mayfield and Kendal families. Set in the plain of North Carolina and the coast and hills of Virginia from 1903 to 1944, it chronicles the marriage of Forrest Mayfield and Eva Kendal, the hard birth of their son, Eva's return to her father after her mother's death, and the lives of two succeeding generations.
The Surface of Earth is the work of one of America's supreme masters of fiction, a journey across time and the poignantly evoked America of the first half of our century that explores the mysterious topography of the powers of love, home, and identity. In his evocation of the hungers, defeats, and rewards of individuals in moments of dark solitude and radiant union, Price has created an enduring literary testament to the range of human life.