Antigonick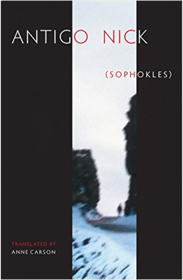 Anne Carson
An illustrated new translation of Sophokles' Antigone.Anne Carson has published translations of the ancient Greek poets Sappho, Simonides, Aiskhylos, Sophokles and Euripides. Antigonick is her seminal work. Sophokles' luminous and disturbing tragedy is here given an entirely fresh language and presentation. This paperback edition includes a new preface by the author, "Dear Antigone."
Autobiography of Red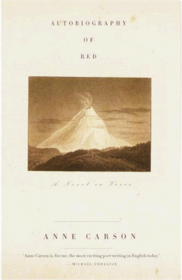 Anne Carson
A NEW YORK TIMES NOTABLE BOOK OF THE YEAR
National book Critics Circle Award Finalist  

"Anne Carson is, for me, the most exciting poet writing in English today."—Michael Ondaatje

"This book is amazing—I haven't discovered any writing in years so marvelously disturbing." —Alice Munro

            
The award-winning poet Anne Carson reinvents a genre in Autobiography of Red, a stunning work that is both a novel and a poem, both an unconventional re-creation of an ancient Greek myth and a wholly original coming-of-age story set in the present.

Geryon, a young boy who is also a winged red monster, reveals the volcanic terrain of his fragile, tormented soul in an autobiography he begins at the age of five. As he grows older, Geryon escapes his abusive brother and affectionate but ineffectual mother, finding solace behind the lens of his camera and in the arms of a young man named Herakles, a cavalier drifter who leaves him at the peak of infatuation. When Herakles reappears years later, Geryon confronts again the pain of his desire and embarks on a journey that will unleash his creative imagination to its fullest extent. By turns whimsical and haunting, erudite and accessible, richly layered and deceptively simple, Autobiography of Red is a profoundly moving portrait of an artist coming to terms with the fantastic accident of who he is.

"A profound love story . . . sensuous and funny, poignant, musical and tender."—The New York Times Book Review

"A deeply odd and immensely engaging book. . . . [Carson] exposes with passionate force the mythic underlying the explosive everyday."  —The Village Voice
The Beauty of the Husband: A Fictional Essay in 29 Tangos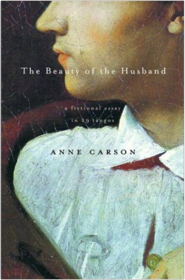 Anne Carson
The Beauty Of The Husband is an essay on Keats's idea that beauty is truth, and is also the story of a marriage. It is told in 29 tangos. A tango (like a marriage) is something you have to dance to the end.

This clear-eyed, brutal, moving, darkly funny book tells a single story in an immediate, accessible voice–29 "tangos" of narrative verse that take us vividly through erotic, painful, and heartbreaking scenes from a long-time marriage that falls apart. Only award-winning poet Anne Carson could create a work that takes on the oldest of lyrical subjects–love–and make it this powerful, this fresh, this devastating.
Float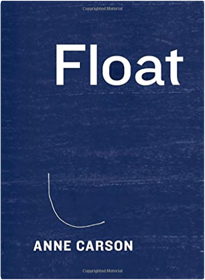 Anne Carson
From the renowned classicist and MacArthur Prize winner: a new collection that explores myth and memory, beauty and loss, all the while playing with—and pushing—the limits of language and form.

Anne Carson consistently dazzles with her inventive, shape-shifting work and the vividness of her imagination. Float reaches an even greater level of brilliance and surprise. Presented in an arrestingly original format—individual chapbooks that can be read in any order, and that float inside a transparent case—this collection conjures a mix of voices, time periods, and structures to explore what makes people, memories, and stories "maddeningly attractive" when observed in spaces that are suggestively in-between.
    
One can begin with Carson contemplating Proust on a frozen Icelandic plain, or on the art-saturated streets of downtown New York City. Or journey to the peak of Mount Olympus, where Zeus ponders his own afterlife. Or find a chorus of Gertrude Steins performing an essay about falling—a piece that also unearths poignant memories of Carson's own father and great-uncle in rural Canada. And a poem called "Wildly Constant" piercingly explores the highs and lows of marriage and monogamy, distilled in a wife's waking up her husband from the darkness of night, and asking him to make them eggs for breakfast.
    
Exquisite, heartbreaking, disarmingly funny, Float kaleidoscopically illuminates the uncanny magic that comes with letting go of expectations and boundaries. It is Carson's most intellectually electrifying, emotionally engaging book to date.
Glass, Irony and God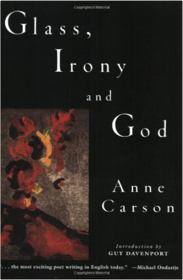 Anne Carson
Anne Carson's poetry—characterized by various reviewers as "short talks," "essays," or "verse narratives"—combines the confessional and the critical in a voice all her own.Known as a remarkable classicist, Anne Carson weaves contemporary and ancient poetic strands with stunning style in Glass, Irony and God. This collection includes: "The Glass Essay," a powerful poem about the end of a love affair, told in the context of Carson's reading of the Brontë sisters; "Book of Isaiah," a poem evoking the deeply primitive feel of ancient Judaism; and "The Fall of Rome," about her trip to "find" Rome and her struggle to overcome feelings of a terrible alienation there.
Men in the Off Hours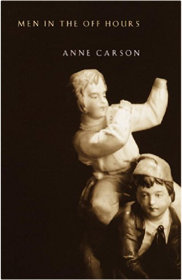 Anne Carson
Anne Carson has been acclaimed by her peers as the most imaginative poet writing today. In a recent profile, The New York Times Magazine paid tribute to her amazing ability to combine the classical and the modern, the mundane and the surreal, in a body of work that is sure to endure.

In Men in the Off Hours, Carson offers further proof of her tantalizing gifts. Reinventing figures as diverse as Oedipus, Emily Dickinson, and Audubon, Carson sets up startling juxtapositions: Lazarus among video paraphernalia, Virginia Woolf and Thucydides discussing war, Edward Hopper paintings illuminated by St. Augustine. And in a final prose poem, she meditates movingly on the recent death of her mother. With its quiet, acute spirituality and its fearless wit and sensuality, Men in the Off Hours shows us a fiercely individual poet at her best.
Nay Rather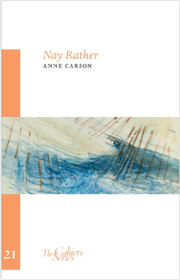 Anne Carson
Sylph Editions's Cahiers Series features some of the most venerable names in literature and publishing as they embark on unique explorations in writing and translation. This newest installment unites two texts by celebrated Canadian poet Anne Carson. The first, "Variations on the Right to Remain Silent," is an essay on the stakes involved when translation happens and covers works ranging from Homer through Joan of Arc to Paul Celan. It also includes the author's seven translations of a poetic fragment from the Greek poet Ibykos. The second, "By Chance the Cycladic People," is a poem about Cycladic culture in which the order of the lines has been determined by a random number generator. The cahier is lavishly illustrated with drawings and gouaches by Lanfranco Quadrio.
Nox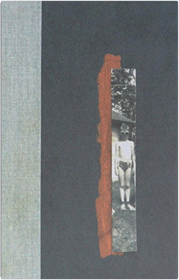 Anne Carson
Anne Carson's haunting and beautiful Nox is her first book of poetry in five years―a unique, illustrated, accordion-fold-out "book in a box."Nox is an epitaph in the form of a book, a facsimile of a handmade book Anne Carson wrote and created after the death of her brother. The poem describes coming to terms with his loss through the lens of her translation of Poem 101 by Catullus "for his brother who died in the Troad." Nox is a work of poetry, but arrives as a fascinating and unique physical object. Carson pasted old letters, family photos, collages and sketches on pages. The poems, typed on a computer, were added to this illustrated "book" creating a visual and reading experience so amazing as to open up our concept of poetry. 50 color and black-and-white prints
Red Doc>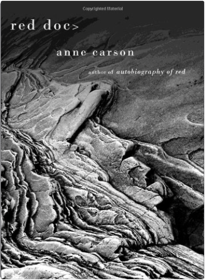 Anne Carson
Some years ago I wrote a book about a boy named Geryon who was red and had wings and fell in love with Herakles. Recently I began to wonder what happened to them in later life. Red Doc> continues their adventures in a very different style and with changed names.

To live past the end of your myth is a perilous thing.
If Not, Winter: Fragments of Sappho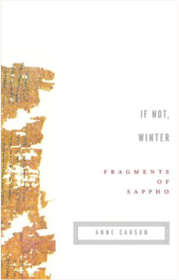 Sappho/Anne Carson
By combining the ancient mysteries of Sappho with the contemporary wizardry of one of our most fearless and original poets, If Not, Winter provides a tantalizing window onto the genius of a woman whose lyric power spans millennia. 

Of the nine books of lyrics the ancient Greek poet Sappho is said to have composed, only one poem has survived complete. The rest are fragments. In this miraculous new translation, acclaimed poet and classicist Anne Carson presents all of Sappho's fragments, in Greek and in English, as if on the ragged scraps of papyrus that preserve them, inviting a thrill of discovery and conjecture that can be described only as electric—or, to use Sappho's words, as "thin fire . . . racing under skin." 

"Sappho's verse has been elevated to new heights in [this] gorgeous translation." —The New York Times

"Carson is in many ways [Sappho's] ideal translator....Her command of language is hones to a perfect edge and her approach to the text, respectful yet imaginative, results in verse that lets Sappho shine forth." —Los Angeles Times